Cheeseburger Soup Recipe
Prep Time: 30 Min | Cook Time: 20 Min | Servings: | Calories: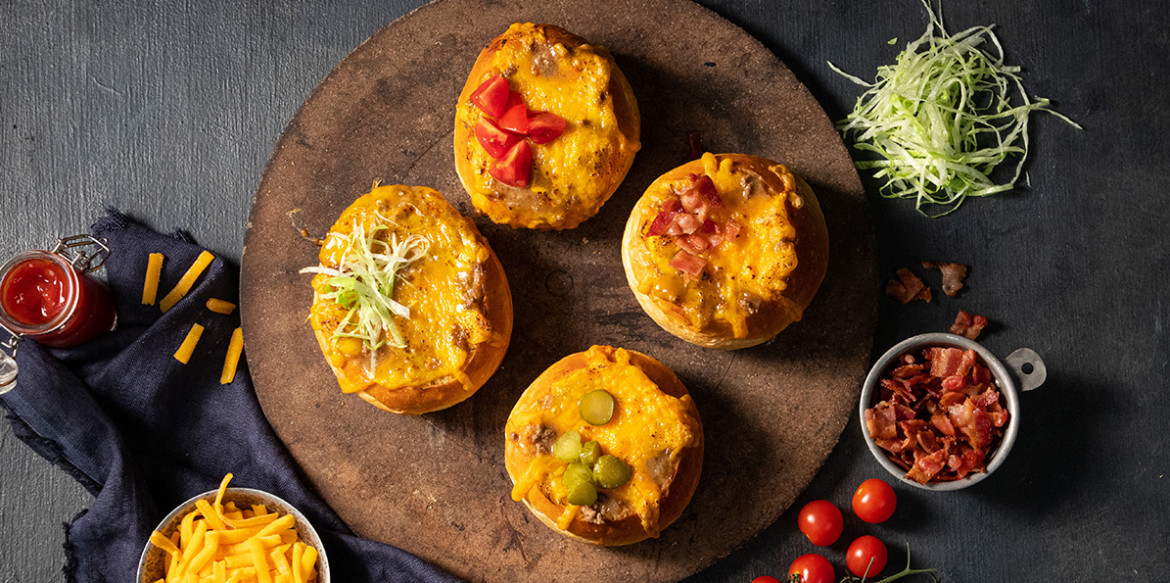 ---
French onion and cheese soups are combined with cheeseburgers to create this scrumptious soup. Serve it in a hollowed out bread bowl, top it will melted cheese and serve it with your favorite toppings.
Ingredients
1 lb. Ground chuck
½ cup Onion, diced
5 Tbsp. Beef fat, butter or both
7 Tbsp. Flour
3 cups Beef broth
½ cup Milk
2 tsp. Worcestershire sauce
1 Tbsp. Ketchup
1 Tbsp. Yellow mustard
4 ea. Kaiser hard rolls, top quarter removed
salt and pepper to taste
Assorted toppings (chopped bacon, lettuce, tomato, mayo, pickles, etc.)
Directions
In a medium saucepan, brown beef over medium heat. Drain beef, keeping fat and set cooked beef aside.
In the same pan, add beef fat back to pan with onion. Cook onion for 4-5 minutes or until softened. Add enough butter to equal 5 tablespoon of melted fat. Stir in flour and cook for 5-7 minutes, stirring often until mixture is browned.
Slowly whisk in beef broth, milk, Worcestershire, ketchup, mustard, salt, and pepper. Simmer until thickened.
Slowly stir in 1 cup of the sharp cheddar cheese. Add cooked beef back to soup.
While soup is simmering, hollow out the buns, making sure not to create any holes in the buns.
Place bread bowls on a baking sheet lined with foil. Ladle about 6 ozs. of soup to each hollowed out bread bowl. Top each with about ¼ cup of remaining cheese. Bake until cheese has melted, or about 5-7 minutes. Serve with assorted toppings.
---