Cheddar & Rosemary Hasselback Potatoes Recipe
Prep Time: 15 Min | Cook Time: 75 Min | Servings: | Calories: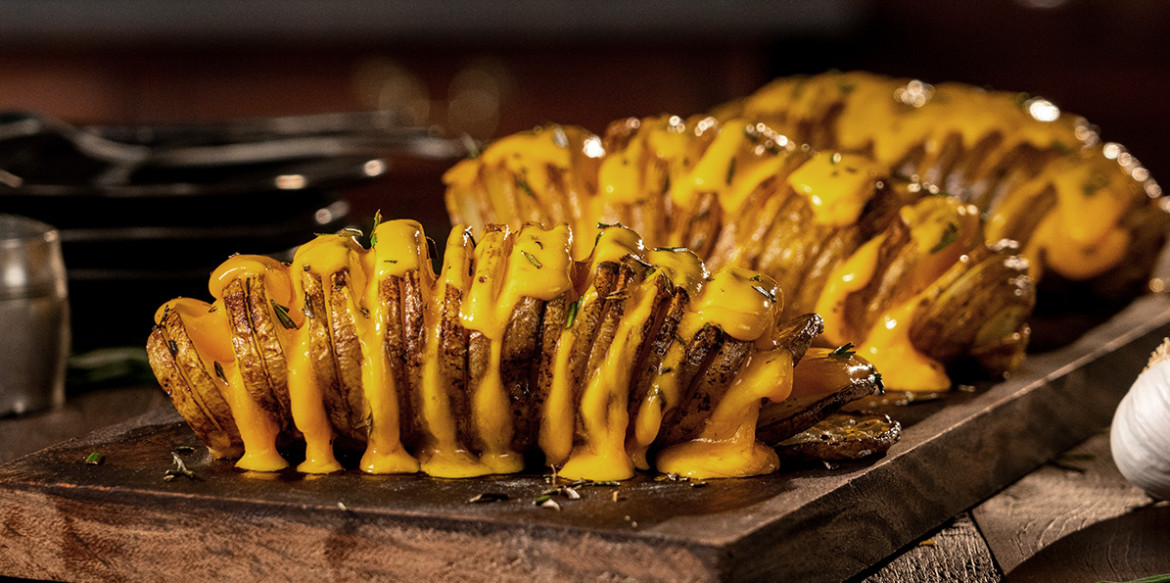 ---
Combine the crunchy goodness of a fried potato slices with the tenderness of a baked potato, then slather it with rosemary butter and Sargento® Creamery Mild Cheddar Cheese, and you have what we refer to as a hasselback potato.
Ingredients
4 med. Russet potatoes, cleaned and patted dry
2 Tbsp. Butter, melted
1 Tbsp. Olive oil
4 tsp. Chopped fresh rosemary
¼ tsp. Salt
¼ tsp. Pepper
¼ tsp. Garlic powder
Directions
Pre-heat oven to 425 degrees. Place one potato horizontally on a clean cutting board, then place one wooden spoon on each side of the potato so that the handles are running parallel with the potato. The spoon handles should be about ¼" in diameter. Using a sharp knife, cut thin slices crosswise about 1/8" thick down to the handles of the spoons. The spoons prevent the knife from cutting through the potato completely. Continue cutting slices the entire length of the potato. Set potato aside and repeat slicing with remaining potatoes. Set potatoes on a baking sheet while making rosemary butter.
For rosemary butter, combine butter and remaining ingredients except cheese in a small bowl.
Brush the tops and sides of each slice with the rosemary butter. Bake potatoes for 60 minutes or until potatoes are tender and tops are crisp. Brush with remaining butter. Sprinkle cheese over the tops of potatoes. Bake an additional 15 minutes or until cheese has melted. Serve.
---