Cauliflower & Parsnip Gratin
Prep Time: 10 min | Cook Time: 30 min | Servings: 4 | Calories: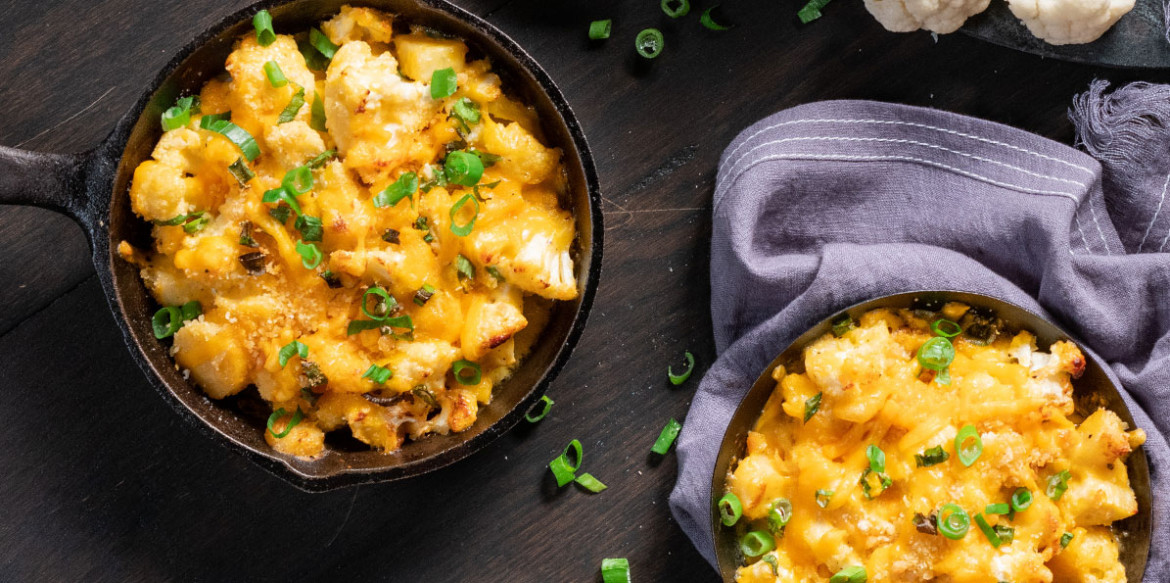 ---
This gluten free veggie side dish is so good, you may want to eat it as an entree'. Roasted cauliflower, parsnips and garlic are bathed in a creamy Sargento® cheese sauce layered with more cheese, then topped with chopped green onions and gluten free breadcrumbs.
Ingredients
1 Tbsp. Crushed Garlic
1 Tbsp. Heavy Cream
1 Tbsp. Unsalted Butter, Melted
1/2 tsp. Kosher Salt
1/2 tsp. Ground Black Pepper
5 cups Cauliflower
2 cups Parsnips, peeled and sliced
1 cup Vegetable Broth
1/2 cup Heavy Cream
2 Tbsp. Cornstarch
1/2 tsp. Dry Mustard
1/2 tsp. Worcestershire Sauce
1/4 cup Bread Crumbs
2 Tbsp. Green Onions, Sliced
Directions
Pre-heat oven to low broil. In a large bowl, stir together garlic and next 4 ingredients. Add cauliflower and parsnips. Toss to coat. Spread mixture onto a greased baking sheet. Broil for 10 minutes. Remove from oven and let cool. Turn oven to bake at 400 degrees. While cauliflower mixture is in the oven, prepare cheese sauce.
For Cheese Sauce: In a 3-quart saucepan, combine chicken or vegetable broth, cream, stir in dry mustard and worcestershire sauce. Bring to a simmer over medium low heat. While liquid is heating up, in a medium bowl, combine 2 cups of cheese and cornstarch. Toss to coat completely. When liquid is hot, slowly whisk in cheese mixture. Continue whisking until cheese has melted. Bring mixture to a boil, while continuing to whisk mixture, until thickened and smooth. Remove sauce from heat and pour cheese sauce into a large bowl. Fold in roasted cauliflower mixture.
Spray 2-4 individual gratin dishes or a baking dish with non-stick spray. Spoon cauliflower mixture into the gratin dishes. Sprinkle bread crumbs and green onions on top. Place gratin dishes on a baking sheet and bake for 10-15 minutes or until cheese is melted and bread crumbs are golden brown. Serve. Makes approximately 5 cups.
---