Bacon Cheddar Puffs
Prep Time: 15 Min | Cook Time: 25 Min | Servings: 24 | Calories: 130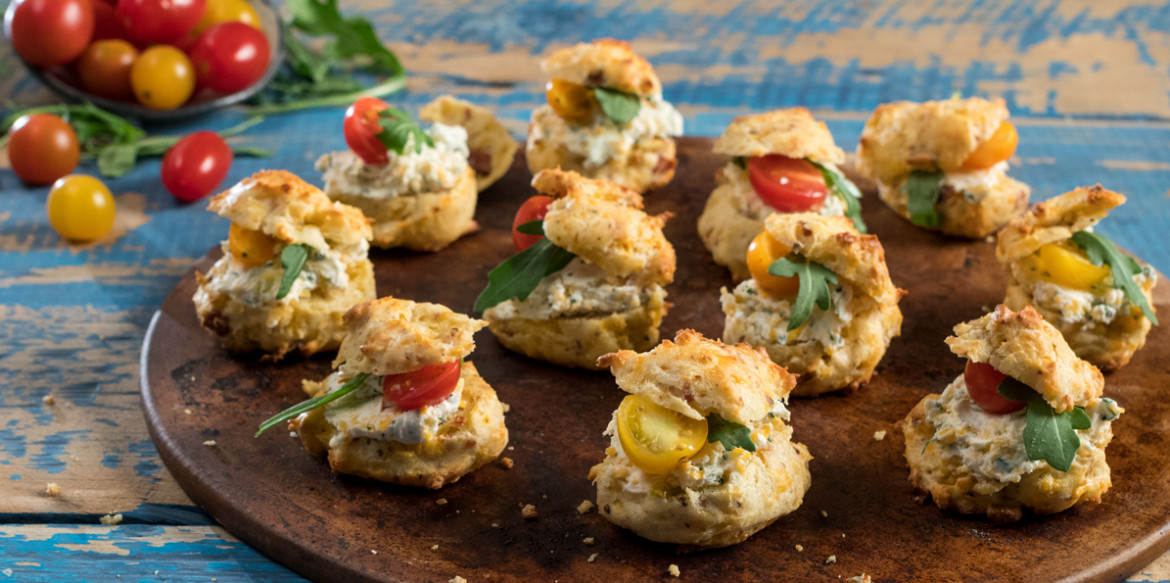 ---
This recipe makes it possible for you to create your very own savory appetizer bites that are filled with notes from smoky bacon and zesty Cheddar. With Sargento® Shredded Sharp Cheddar Cheese - Fine Cut, you will be pleased with how gorgeous these puffs will come out once they're baked to golden perfection.
Ingredients
1 cup milk
1/4 cup butter
1 cup all-purpose flour
4 large eggs
8 slices bacon, cooked crisp, crumbled
1/2 tsp. onion salt or powder
1/4 tsp. garlic salt
1/4 tsp. freshly ground black pepper
PUFF FILLING:
8 oz. cream cheese, softened
1 Tbsp. fresh dill, chopped
1 Tbsp. fresh chives, chopped
1/2 tsp. salt
24 ea. prepared bacon cheddar puffs
12 ea. grape tomatoes, halved
12 ea. arugula leaves
Directions
PUFFS:
Preheat oven to 350°F.
Combine milk and butter in medium saucepan. Heat over medium heat until butter is melted and mixture is simmering.
Add flour all at once; continue to cook, stirring vigorously with a wooden spoon, until mixture forms a ball. Remove from heat.
Beat in 1 egg until mixture is smooth. Repeat with remaining eggs, adding just 1 egg at a time, beating until thoroughly combined.
Stir in remaining ingredients.
Drop heaping teaspoons of mixture onto greased baking sheet. Bake for 25 minutes or until puffed and golden brown.
PUFF FILLING:
In a medium bowl, combine cream cheese, shredded sharp cheddar cheese, dill, chives and salt, until well blended.
ASSEMBLE PUFFS:
Cut the tops off of the puffs, setting them next to the bottoms to use later.
Spread a heaping tablespoon of herbed cheese mixture into the bottom of each puff.
Press one grape tomato half into each cheese filled puff. Then, top with one piece of arugula.
Replace puff tops over arugula. Serve on a plate or platter as an appetizer.
---