Apple, Dried Cherry and Aged Italian Baguettes
Prep Time: 10 min | Cook Time: 12 min | Servings: 4 | Calories: 856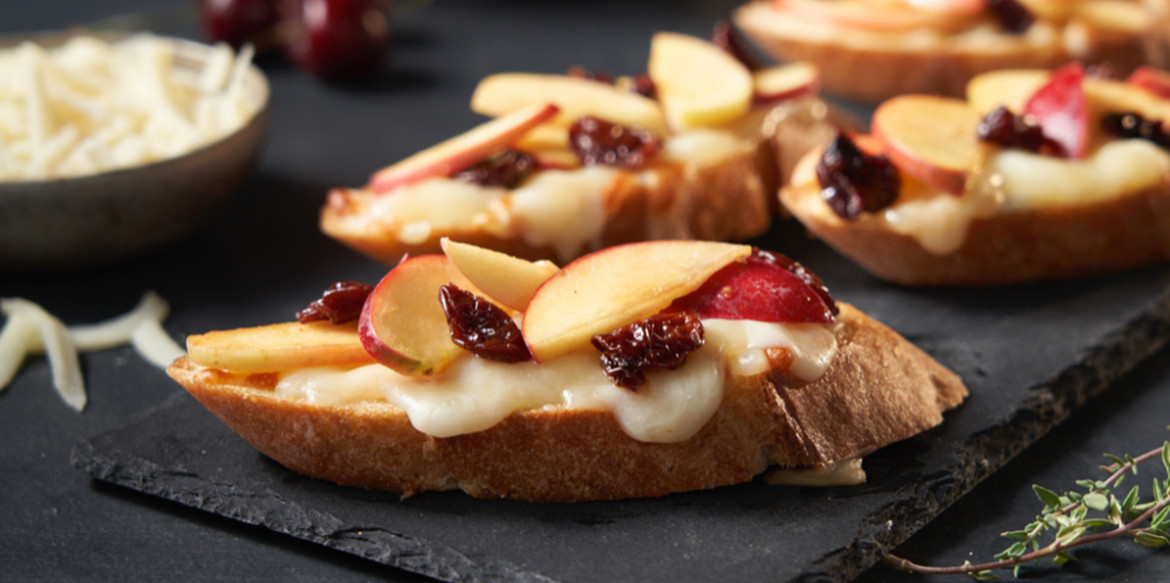 ---
Capture that beautifully fruity and spicy scent that comes around the fall and winter holiday season into a gorgeous topping. The best part of this apple and cranberry salad recipe is when it's placed on a warm crostini with melted Reserve Series™ Aged Italian Blend, and the wonderful sweetness of the fruit and savory flavors come together into a bite-size morsel.
Ingredients
10 slices (1/2-inch thick) French bread baguette (2 to 3 inches in diameter)
4-1/2 Tbsp. olive oil, divided
1 1/2 cups Reserve Series™ Aged Italian Blend
2 small apples
1/2 cup dried cherries or cranberries
1 Tbsp. lemon juice
Directions
Brush bread slices with 1-1/2 tablespoons of the olive oil; place on a baking or cookie sheet. Sprinkle cheese over bread. Bake in a preheated 375°F oven 12 minutes or until golden brown.
Meanwhile, thinly slice the apples. Cut slices into julienne (matchstick size) strips. If cherries are large, cut into strips. Combine apples, cherries, remaining 3 tablespoons oil and lemon juice; toss well. Season to taste with salt and pepper, if desired.
Arrange warm crostini on 4 serving plates; top with salad.
---