Tostada Stack Recipe
Prep Time: | Cook Time: | Servings: 12 | Calories: 551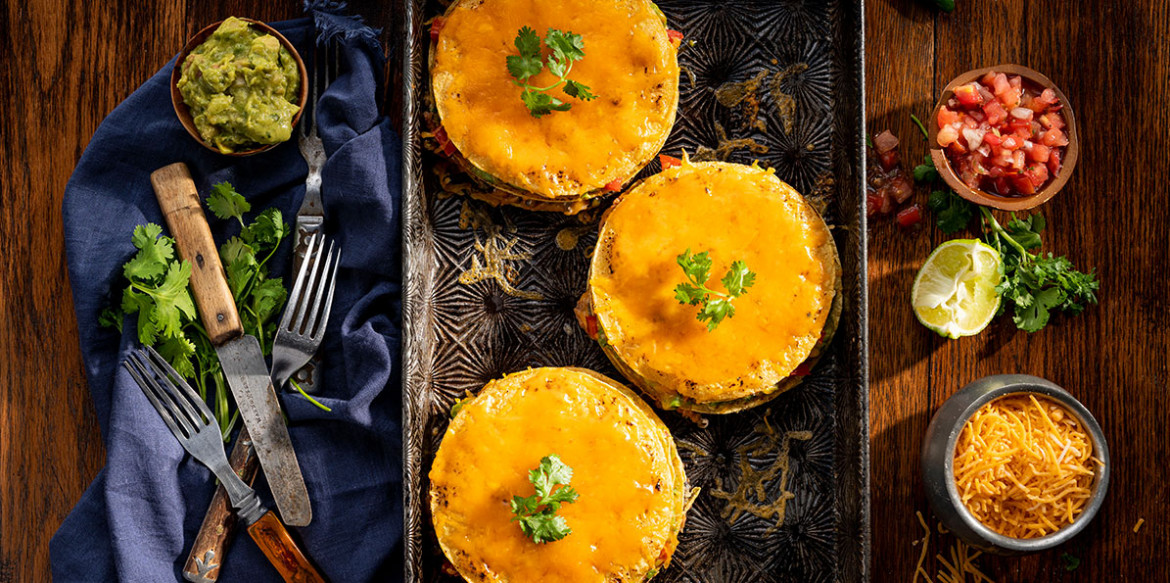 ---
Tostada stacks are wonderfully simple to make and filled with your favorite Mexican-inspired flavors. Ingredients like hearty refried beans, chopped olives, tomatoes, melted Sargento® Shredded Nacho & Taco Cheese, guacamole and sour cream combined for a perfect meal.
Ingredients
12 (6-inch) soft corn tortillas
1 cup refried beans
1/2 cup chopped ripe olives
1 cup guacamole
1 cup chopped tomato
4 tablespoon sour cream
Salsa, optional
Directions
Soften tortillas according to package directions. Spread 1/4 cup refried beans over 1 tortilla; top with 2 tablespoons ripe olives and 1-1/2 tablespoons cheese. Cover with second tortilla. Spread 1/4 cup guacamole over tortilla; top with 1/4 cup tomato and 1-1/2 tablespoons cheese. Cover with third tortilla; place on greased baking sheet. Assemble 3 more stacks, repeating above procedure. Sprinkle top tortillas with remaining cheese. Bake at 350°F for 15 minutes until cheese is melted and stacks are heated through. Place 1 tablespoon sour cream on each stack. Pass salsa, if desired. Makes 4 servings.
---