Tortilla Grande Recipe
Prep Time: 20 min | Cook Time: 45 min | Servings: 6 | Calories: 464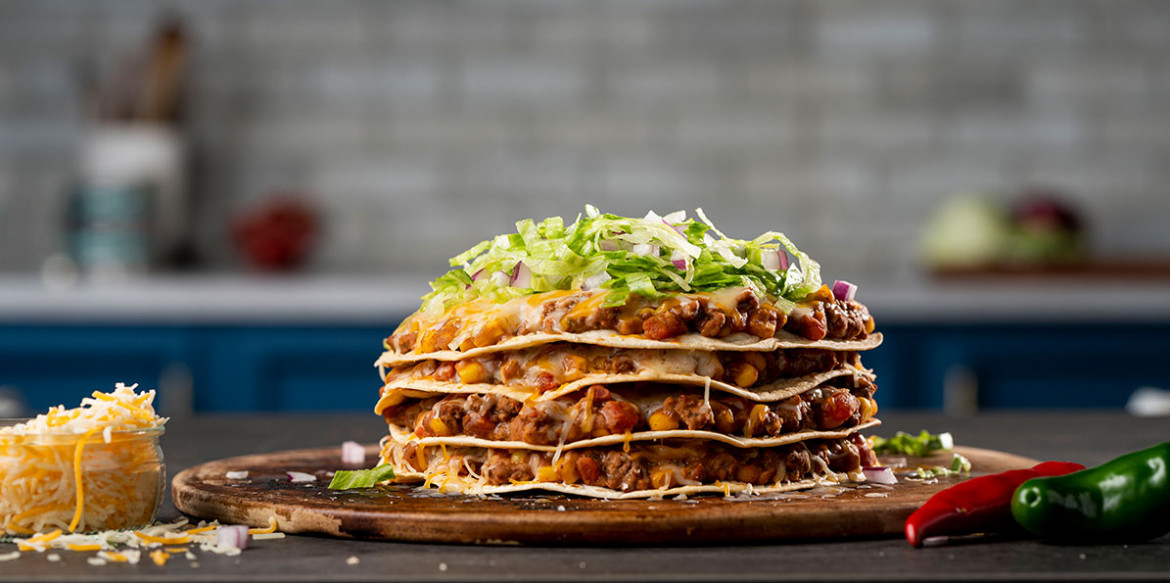 ---
This tortilla is definitely big on flavor from a combination of beef cooked with hearty refried beans, tomatoes with green chilies, corn, your favorite salsa and zesty seasonings. Sargento® Shredded Colby-Jack Cheese - Fine Cut melts perfectly to create this uniquely tasty treat.
Ingredients
1 lb. ground beef
3 cloves garlic, minced
1 can (16 oz.) fat-free refried beans
1 can (10 oz.) tomatoes with green chiles, undrained
1 can (7 oz.) whole kernel corn, drained or 1 cup frozen corn, thawed
1 can (4.5 oz.) chopped green chilies, undrained
1/2 cup salsa
1 tsp. chili powder
1 tsp. ground cumin
4 (7-inch) flour tortillas
2 cups (8 oz.) Sargento® Shredded Colby-Jack Cheese - Fine Cut or Sargento® Shredded 4 Cheese Mexican - Fine Cut
Shredded lettuce (optional)
Chopped red onion (optional)
Light sour cream (optional)
Directions
Cook beef and garlic in large skillet over medium heat until beef is no longer pink; pour off drippings. Add beans, tomatoes, corn, green chilies, salsa, chili powder and cumin; bring to a simmer over high heat.
Reduce heat, simmer, uncovered, stirring frequently 20 minutes or until mixture is thick. Transfer to large bowl; set aside.
Clean skillet. Place one tortilla in bottom of skillet; top with 1-1/4 cups meat mixture and 1/2 cup cheese. Repeat layers 3 more times. Cook over medium-low heat, covered, 15 minutes or until heated through. Cut into wedges and serve with desired toppings.
---