Taco Salad Supreme
Prep Time: 10 min | Cook Time: 15 min | Servings: 4 | Calories: 536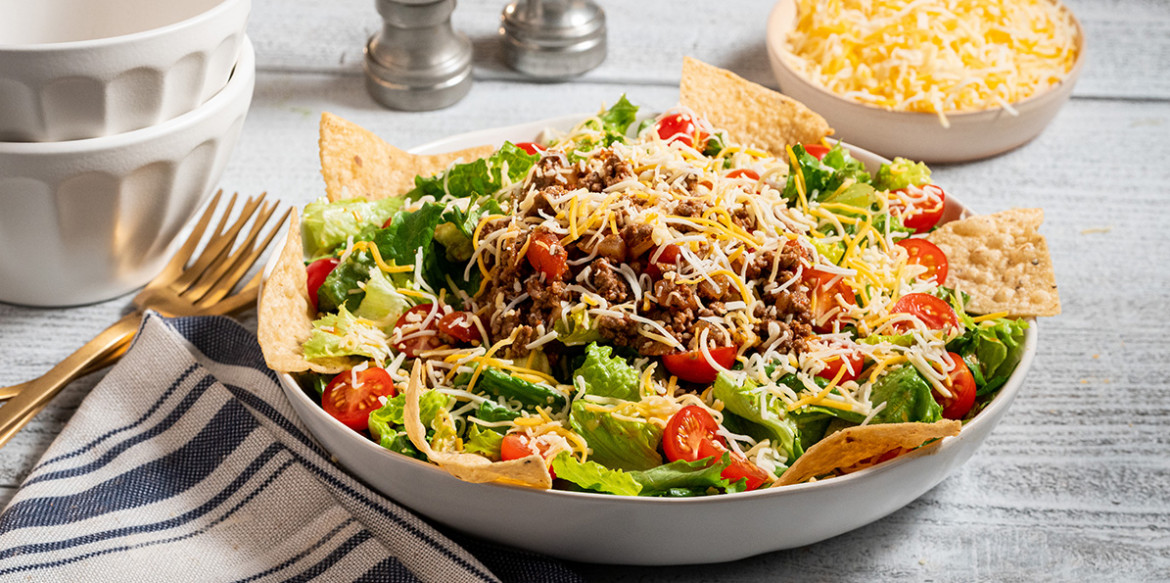 ---
This salad is the perfect way to bring a tasty bit of fiesta to the table. A bed of fresh greens is topped with seasoned ground beef, Sargento® Shredded 4 Cheese Mexican, salsa, tomatoes and crushed tortilla chips. It's Mexican-inspired flavor!
Ingredients
1 lb. lean ground beef or turkey
1 medium onion, chopped
3 cloves garlic, minced
4 tsp. Mexican seasoning, divided
1 cup salsa, divided
2 Tbsp. vegetable oil
6 cups (10 oz.) salad greens, torn
1 small tomato, diced
1 cup coarsely crushed tortilla chips
Directions
Cook beef, onion and garlic in large skillet over medium heat 4 minutes or until beef is no longer pink, stirring occasionally; pour off drippings. Sprinkle 3 teaspoons seasoning over beef mixture; add 3/4 cup salsa. Simmer over medium-low heat 10 minutes, stirring occasionally. Add water, a tablespoon at a time, if mixture becomes too thick.
Combine remaining salsa, oil and seasoning in small bowl. Toss salad greens with 1 cup cheese and oil mixture in large bowl. Arrange on four serving plates. Spoon beef mixture over salad; top with remaining cheese, tomato, and tortilla chips.
---