Chicken and Chipotle Chimichunga Recipe
Prep Time: 10 min | Cook Time: 20 min | Servings: 4 | Calories: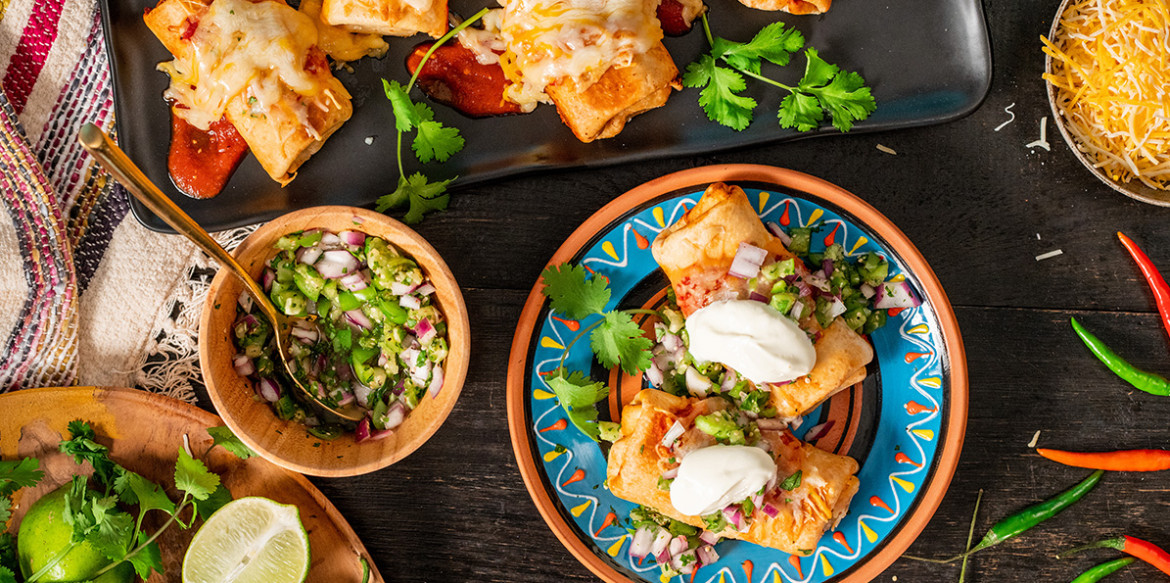 ---
Flour tortillas are filled with shredded chicken and fried to a golden brown, and then topped with sour cream and Sargento® 4 Cheese Mexican Cheese and baked to a melty deliciousness. Serve with sour cream and pico de gallo.
Ingredients
1/4 Onion, sliced
Vegetable Oil
1/2 cup Sour cream
2 cups Sargento® Shredded 4 Cheese Mexican
16 Flour tortillas
1 Tbsp Lime juice
2 Tbsp cilantro
medium Serano chili
1/2 cup Red onion, chopped
1 cup Tomatillos, chopped
1/2 cup Chicken stock
2 Cups Chicken breast, shredded
1 tbsp. Chipotle peppers in adobo sauce
1 1/2 cup Tomato puree
Salt and pepper to taste
Directions
Sauté the onions until translucent. Add the tomato puree and chipotle peppers and cook for 5 minutes. Add in the shredded chicken.
Prepare the green pico de gallo: Mix the tomatillos, red onions, serrano chili, cilantro, lime juice and season with salt and pepper to taste.
Prepare the chimichangas: Heat the flour tortillas, divide the chicken filling among the flour tortillas evenly, fold the left and right ends toward the center, then roll facing upwards to form a tight roll. Fry in oil on a medium heat seam side down and turn when golden brown. Remove from heat and drain on paper towels. Place chimichangas on a baking dish / tray, spread the top of the chimichangas with sour cream, cover with cheese and bake at medium high heat until cheese is completely melted, lightly browned and bubbly. Remove from oven.
Serve the chimichangas with a dollop of sour cream and green pico de gallo salsa to taste. Enjoy!
---