Pulled Pork & Cheddar Hoagies Recipe
Prep Time: 15 min | Cook Time: 150 min | Servings: 6 | Calories: 681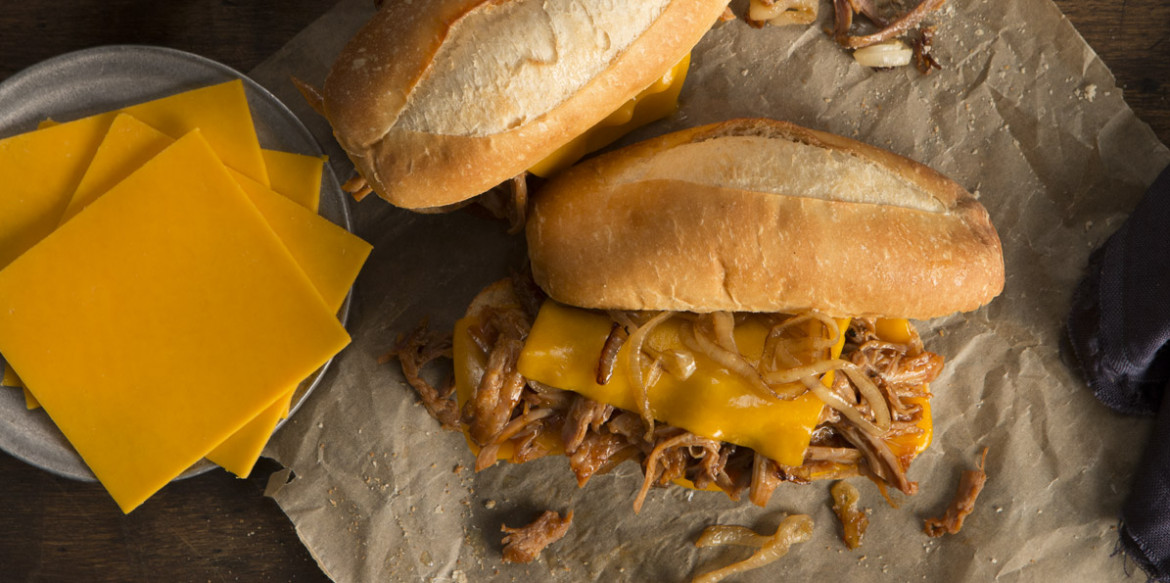 ---
Hoagies filled with tender baked pork shoulder coated in your favorite barbecue sauce along with butter-sautéed onions and melted Sargento® Sliced Sharp Cheddar Cheese between a lightly toasted hoagie rolls are exactly what you need. Serve next game day and your guests will thank you.
Ingredients
1 (2-1/2 lb.) boneless pork shoulder roast (or 3-lb. bone-in roast)
1 Tbsp. butter or oil
1 large onion, thinly sliced
1 cup barbecue sauce
6 (6 to 7-inch) hoagie rolls, split, lightly toasted
Directions
Place roast, fat side up, in baking dish or covered casserole. Season with salt and pepper, if desired. Cover dish with cover or heavy duty aluminum foil. Bake in preheated 350°F oven 2-1/2 hours or until meat is very tender when pierced with a fork.
Meanwhile, melt butter in large skillet over medium heat. Add onion; sauté until tender and golden brown, 16 to 18 minutes.
Transfer roast to carving board. Discard fat (and bone) from roast. Use 2 forks to pull pork into shreds. Toss pork with barbecue sauce.* Heat in saucepan or microwave oven until hot.
Spoon meat over bottom of rolls; top with cheese and onion. Close sandwiches with roll tops.
---