Chili & Cheese Pulled Chicken Sandwiches Recipe
Prep Time: 5 min | Cook Time: 4 Hrs | Servings: 6 | Calories: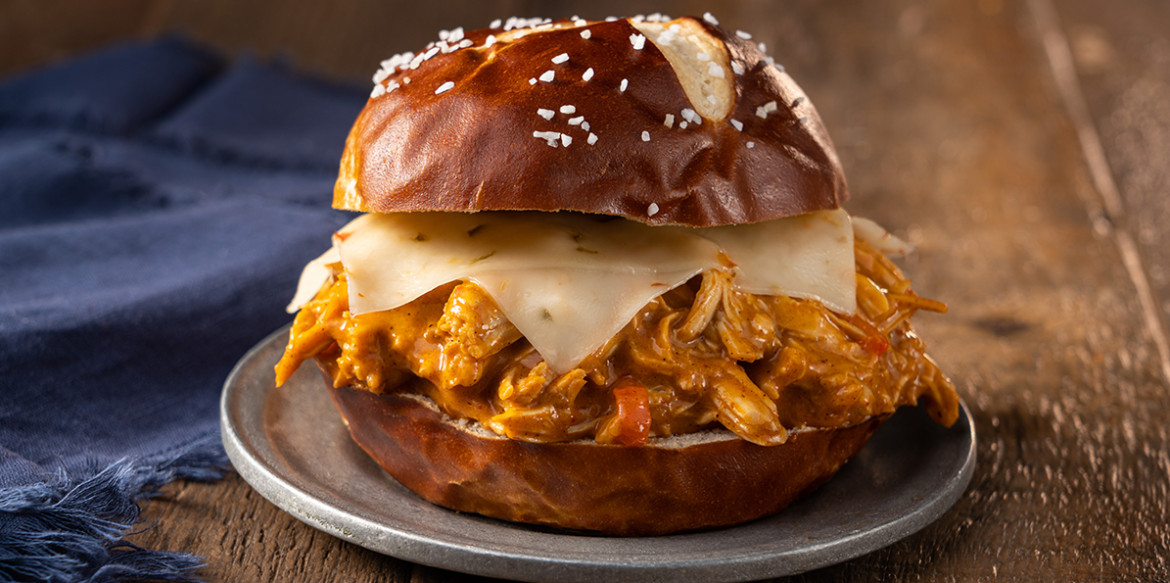 ---
Here's a simple meal you can pop in the slow cooker, go about your day and then finish it in a matter of minutes to serve to your hungry crew for dinner. The chili-cheese chicken with Pepper Jack melted on top makes a crowd-pleasing sandwich. An option is to make this as taquitos.
Ingredients
1 ½ lbs. Frozen boneless, skinless chicken breasts, thawed, cut in half
½ cup Chicken broth
1/3 cup Mayonnaise
1/3 cup Sour cream
1 cup Frozen or fresh peppers, chopped
1 packet Hot chili seasoning mix
6 ea. Pretzel buns, split
Directions
In a small slow cooker, add chicken and next 5 ingredients. Cover and cook on low for 4 hours or until chicken is cooked through and shreds easily with a fork.
Transfer chicken to a cutting board and pull chicken using 2 forks. Transfer shredded chicken back to slow cooker, then gently fold in shredded cheddar. Keep warm until ready to assemble. To assemble, spoon about ½ a cup of chili cheese chicken onto the bottom of each bun. Top each with 2 slices of cheese. Replace tops and serve.
To make chicken taquitos, Chicken mixture can be rolled up in small flour tortillas then baked.
---