Rainbow Korean Egg Rolls
Prep Time: 5 Min | Cook Time: 15 Min | Servings: 4 | Calories: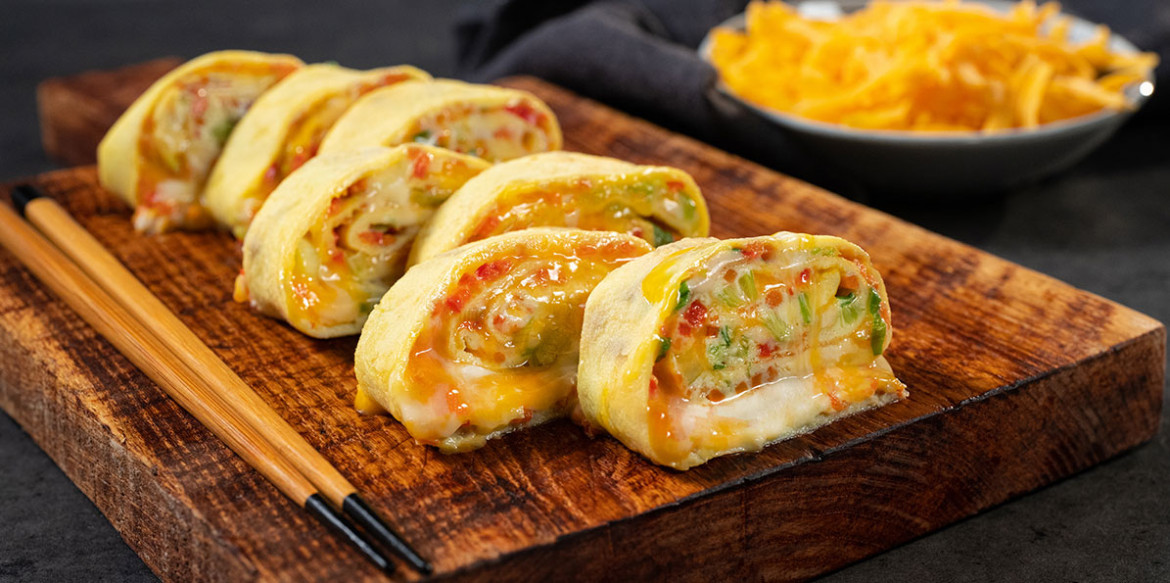 ---
This rolled egg recipe is made with green onion, chopped carrot and Sargento® Shredded Cheese. It's a popular side dish, especially for a lunch box, that you can easily whip up in no time!
Ingredients
5 lg. Eggs, beaten
2 ea. Green onions, thinly sliced
1/3 cup Fresh carrot sticks, finely chopped
1/3 cup Red bell pepper strips, finely diced
1/3 cup Sargento® Shredded Mozzarella Cheese
Directions
In a medium bowl, stir together green onions, carrots and red pepper. Set near the burner. In another small bowl, combine cheeses. Set near burner. Pour beaten eggs into a glass measuring cup and set near the burner. Have 2 flat plastic or silicone spatulas near the burner.
Pre-heat a square omelet pan or 10" non-stick skillet over medium low heat.
To make egg roll: Pour half of the beaten egg into the pan and swirl pan quickly so bottom of pan is covered with liquid. Cook egg mixture for 1-2 minutes or until egg is set on bottom and egg is wet but no longer runny on top.
Remove from heat, then quickly sprinkle with half of the vegetable mixture evenly over entire egg surface. Sprinkle half of cheese over vegetables.
Working quickly, using both spatulas side by side, start rolling egg from one end towards the other, pushing the roll back towards the starting poing after each roll. When there is about an inch of the egg still laying flat, pull egg roll to the front of the pan where you started rolling, then place pan back over the heat.
Pour remaining liquid egg into pan, covering the remaining flat egg. Cook egg until bottom is set, and egg top is still slightly wet.
Sprinkle remaining vegetable mixture over egg as before, then sprinkle cheese over vegetables.
Remove pan from heat and repeat rolling of egg as before, except roll up completely making a tight roll. Transfer to a cutting board and let cool for 10 minutes. Cut crosswise into 2" thick slices. Serve.
TIP: Multiple cooked egg rolls can be transferred to a baking dish, covered and refrigerated until needed, then slice and rewarm in the microwave or oven when ready to eat. These slices make great after school.
---