Bacon and Jalapeno Mac & Cheese
Prep Time: 30 | Cook Time: 30 | Servings: 8 | Calories: 892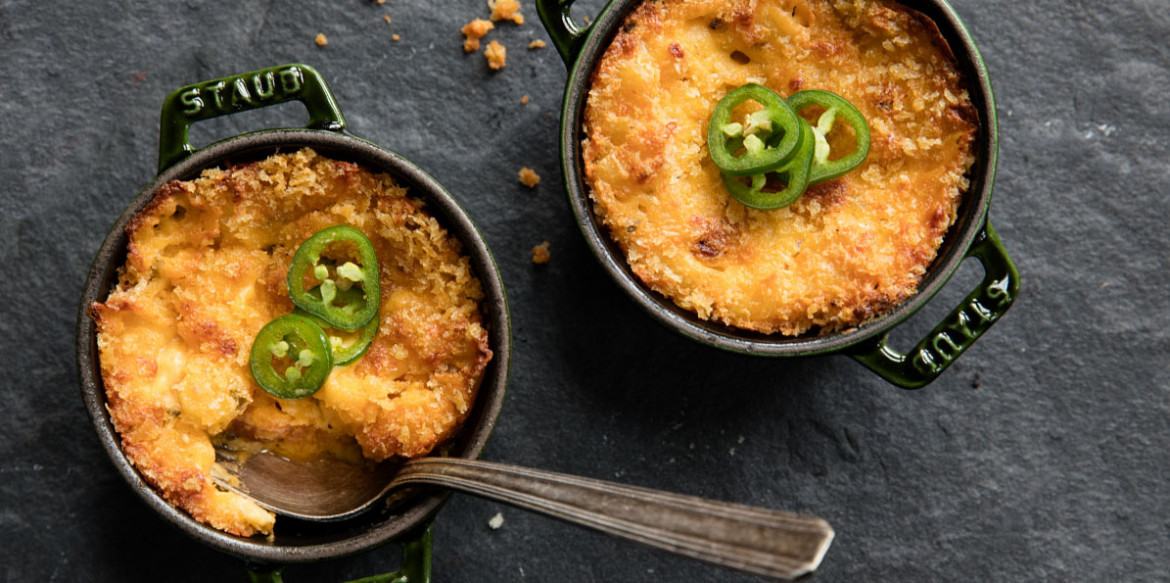 ---
<p><span>Turn up the heat on a classic comfort food dish. Our spicy mac and cheese is just fiery enough to satisfy those who enjoy hot spices but mild enough for those who only dabble. This pot full of gold is a delicious blend of cheeses including Sargento</span><sup>®</sup><span>&nbsp;Shredded Extra Sharp Cheddar Cheese.</span></p>
Ingredients
3 cups dry elbow macaroni
1/4 cup butter
2 large fresh jalapeños, seeded, deveined and finely chopped
1/3 cup all purpose flour
2 cups whole milk
2 cups half-and-half
1/4 tsp. sea salt
1/4 tsp. black pepper
1/4 tsp. cayenne pepper
1 tsp. dry mustard powder
1 pkg. (12 oz.) smoked bacon, cooked crisp and crumbled
3/4 cup plain panko crumbs
2 Tbsp. melted butter
Directions
Preheat oven to 375°F. Bring 4 quarts water to a boil in large stock pot. Once boiling, add dry macaroni and cook 9 minutes. Drain and set aside.
Melt butter in large stock pot. Add minced jalapeño and cook 1 minute. Add flour and cook 2-3 minutes. Whisk in milk and half-and-half. Bring to a boil and cook 2-3 minutes until thickened, whisking continually. Remove from heat.
Add cheeses, salt, peppers and mustard. Stir until cheeses are melted. Add bacon and macaroni and stir until fully combined.
Pour into a 3 qt. baking dish sprayed with nonstick cooking spray. Combine panko crumbs and 2 tablespoons melted butter. Sprinkle over top of macaroni and cheese.
Bake 30 minutes until top is golden brown.
---