Red, White & Blue Grilled Cheese Sandwich
Prep Time: 15 MIN | Cook Time: 10 MIN | Servings: | Calories: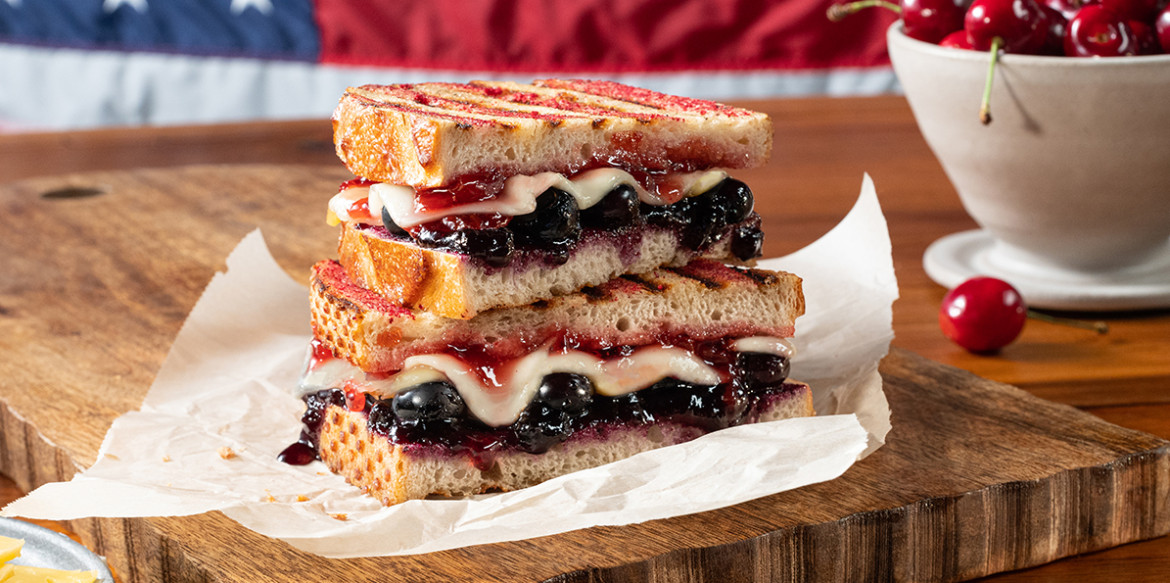 ---
Directions
Butter one side of each slice of bread. Place 4 slices of buttered bread buttered side down on a baking sheet lined with parchment paper. Spread 1 tablespoon of cherry preserves evenly over each slice.
Place 2 slices of cheese over cherry preserves.
Spread 1 tablespoon of blueberry preserves over cheese.
Using a small star cookie cutter, cutout a star shape from the upper left side of each remaining buttered bread slice with the buttered side up.
Place bread slices buttered side up over blueberry preserves.
Using a small brush, lightly brush top of butter with brush to create a surface for the raspberry powder to stick to. Dip brush into raspberry powder, then brush stripes from left to right on top of each sandwich to resemble the stripes of the flag. Repeat process until all 4 bread slices are striped.
Pre-heat grill or grill pan over medium heat. Place 1 sandwich onto grill pan with the star cutout down, lining up the unbrushed areas of the bread parallel with the grill grates.
Grill for 1-2 minutes or until grill marks are noticeable. Turn sandwich over with a spatula. Repeat grilling for an additional 2-3 minutes or until golden brown. Transfer to the baking sheet and repeat grilling remaining sandwiches. Cut each sandwich in half and serve.
---