9-Cheese Roasted Veggie Pizza Recipe
Prep Time: 15 min | Cook Time: 20 min | Servings: 4 | Calories: 820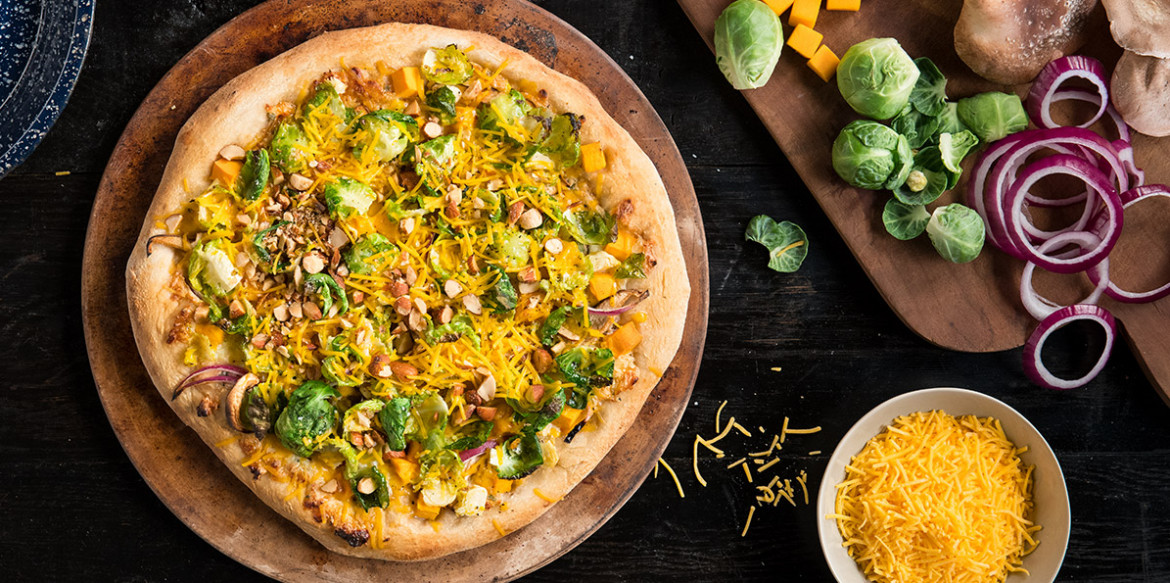 ---
This delightful pizza melds the deep flavor of roasted vegetables with cheese—and lots of it! There's cream cheese, Sargento® Mozzarella, Shredded 6 Cheese Italian and Shredded Sharp Cheddar. Chopped smoked almonds add a nice salty crunch.

Ingredients
1 Tbsp. orange zest
¼ cup smoked almonds, chopped
½ cup Sargento® Shredded Sharp Cheddar Cheese - Fine Cut
1/2 cup sliced shiitake mushrooms
½ cup red onion, cut into strips
3/4 cup butternut squash, cubed
14 oz. whole wheat or regular pizza dough, pressed into a 14" pizza pan
1 Tbsp. fresh basil, chopped
1 cup Sargento® Shredded 6 Cheese Italian
1 cup Sargento® Shredded Mozzarella - Traditional Cut
4 oz. reduced fat cream cheese, softened
5 ea. large brussel sprouts, separated into leaves
2 Tbsp. avocado oil, divided
1 Tbsp. white wine vinegar
salt & pepper, to taste
Directions
Preheat oven to 400 degrees F.
In a medium size bowl, whisk together orange zest, white wine vinegar, and 1 tablespoon of avocado oil. Season with salt and pepper to taste. Add brussel sprout leaves and toss to coat. Set aside.
For cheese topping: In a medium size bowl, combine cream cheese and next 3 ingredients. Stir to combine. Spread mixture over pizza dough, to within a 1/2" of the edge.
Sprinkle squash, mushrooms and onions over cheese mixture. Bake for 15 minutes. Remove pizza from oven.
Spoon dressed brussel sprout leaves over pizza and bake an additional 5 minutes. Remove from oven, sprinkle with remaining shredded cheddar cheese, smoked almonds and salt and pepper to taste. Cut into squares and serve.
---