Cheeseburger Crunch Wrap
Prep Time: 5 MIN | Cook Time: 5 MIN | Servings: | Calories: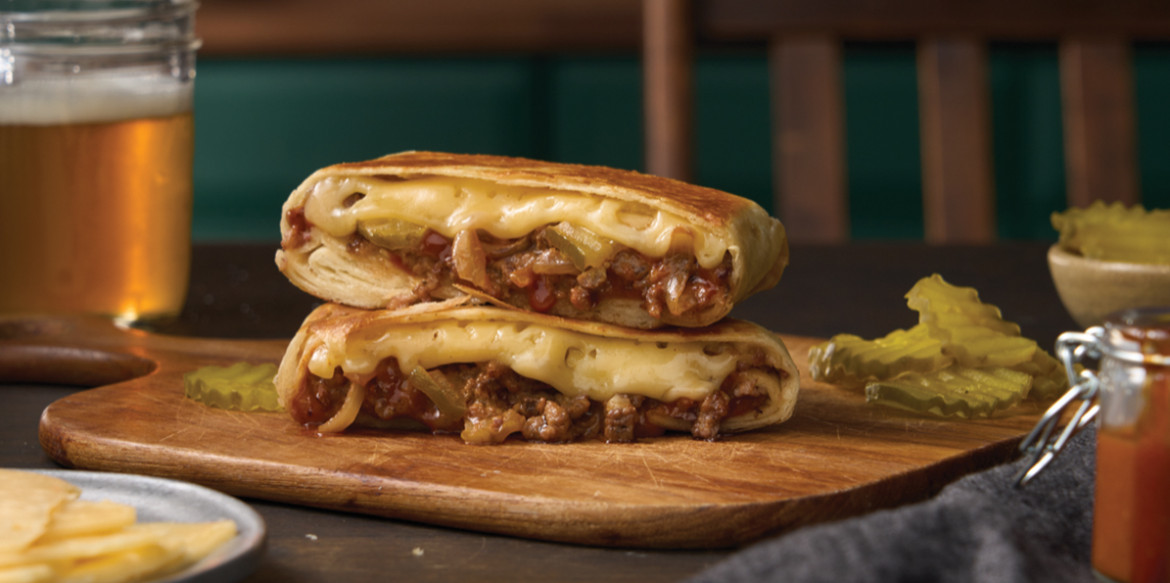 ---
Ingredients
2 cups cooked hamburger, chopped
1 cup onion, cut into strips
1 Tbsp. butter
1 cup diced tomato
12 ea. pickle chips, quartered
4 lg. flour tortillas, warmed
Special Sauce: ½ cup 1000 island dressing, ½ cup barbecue sauce, 1 Tbsp. yellow mustard
Directions
To prepare special sauce, combine all ingredients in a small bowl and stir until smooth. Set aside.
Pre-heat a small skillet over medium-low heat. Add butter and after it has melted, add the onion.
Cook for 8-10 minutes, stirring often until golden brown. Transfer to a medium bowl and set aside.
Add chopped hamburger, tomato and pickle chips. Stir to combine.
Place flour tortillas on a clean, flat surface. Place 2 slices of cheese in the center of each tortilla.
Spoon hamburger mixture evenly over cheese.
Spoon about 1 tablespoon of sauce over filling.
Starting with one edge, fold edge towards the center. Continue folding edges toward the center,
making sure it reaches far enough to cover the filling.
Continue folding edges until the filling is completely covered. Turn the wrap over, making sure it stays
closed, and continue folding the remaining wraps. Transfer wraps to a plate and refrigerate until ready
to fry.
Pre-heat a large skillet or griddle over medium heat. Add oil to pan. Place prepared wraps in pan
folded side down.
Fry each side for 1-2 minutes or until golden brown. Transfer to plates, cut in half and serve with sauce
on the side for dipping.
---