Vegetable Bread Pudding
Prep Time: 20 min | Cook Time: 50 min | Servings: 6 | Calories: 470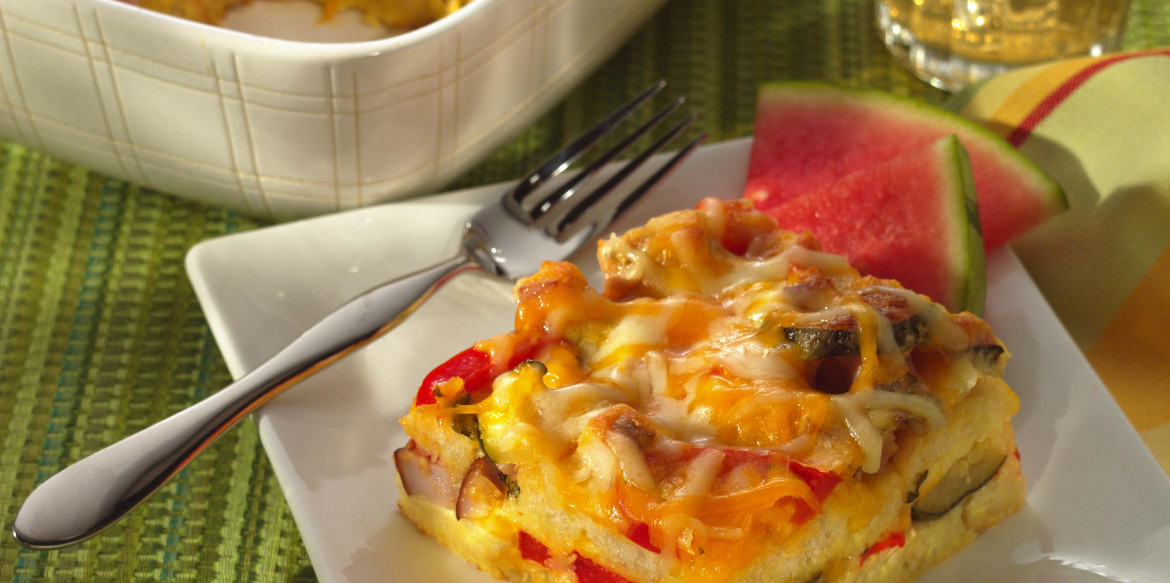 ---
Bread pudding is always a treat during the holidays when our favorite traditional dishes hit the table. This recipe includes tons of garlic, shallots and peppers along with zucchini, diced Canadian bacon and sourdough bread baked to bubbly perfection with Sargento® Shredded Double Cheddar Cheese.
Ingredients
2 Tbsp. butter or margarine
1/2 cup sliced shallots or chopped onion
3 cloves garlic, minced
2 medium zucchini or summer squash, halved lengthwise and cut into 1/4-inch slices
1 red bell pepper, cut into thin strips
2 cups diced Canadian bacon or ham (optional)
5 Tbsp. chopped fresh basil, divided
1/2 tsp. salt
1/2 tsp. pepper or crushed red pepper flakes
12 oz. sliced Italian or sourdough bread, divided
4 eggs
2-1/2 cups milk
Directions
Melt butter in large skillet. Add shallots and garlic; cook over medium heat 3 minutes. Add squash and bell pepper; cook 8 minutes or until vegetables are crisp-tender. Remove from heat; stir in Canadian bacon, if desired. Stir in 4 tablespoons basil, salt and pepper.
Cut bread slices in half if large; arrange on a large baking sheet. Bake in preheated 400°F oven 10 minutes. Layer half of the bread in greased 13 x 9-inch baking pan. Spoon half of squash mixture over bread; sprinkle with half of the cheese. Repeat.
Beat eggs and milk in medium bowl; pour over bread mixture. Bake in preheated 375°F oven 40 minutes or until knife inserted near center comes out clean. Let stand 5 minutes before cutting into squares; sprinkle with remaining basil.
---