Three Dips for Game Day
Prep Time: | Cook Time: | Servings: | Calories: 2339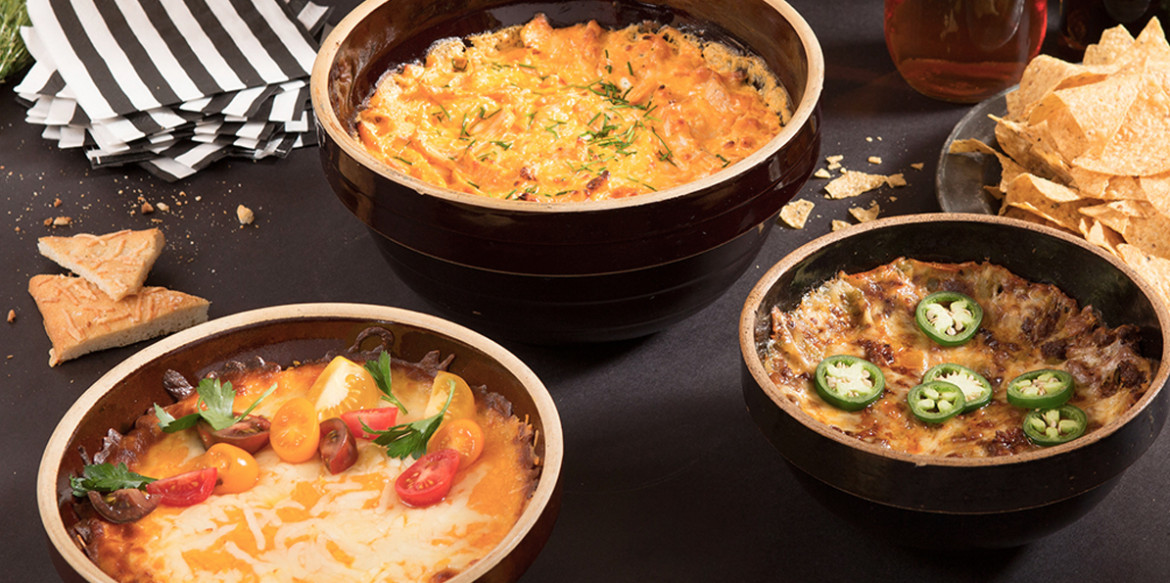 ---
Ingredients
BUFFALO CHICKEN DIP
2 cups shredded cooked chicken
8 oz. cream cheese, softened
1/2 cup Buffalo wing sauce
1/2 cup ranch dressing
2 cups (8 oz.) Sargento® Shredded Mozzarella - Traditional Cut
PIZZA DIP
8 oz. cream cheese, softened
1/2 tsp. Italian seasoning
1/4 tsp. garlic salt or powder
2 cups (8 oz.) Sargento® Shredded Mozzarella - Traditional Cut or Sargento® Shredded 4 Cheese Pizzeria, divided
1-1/2 cups pizza sauce
1/2 tsp. dried thyme
QUESO FUNDIDO
1/2 cup chopped sweet onion
8 oz. uncooked chorizo sausage, casing removed
1 (4 oz.) can chopped mild green chilies, undrained
2 cups (8 oz.) Sargento® Shredded Pepper Jack Cheese
1 fresh jalapeno pepper, seeded and sliced, optional
1/4 tsp. paprika, optional
Directions
BUFFALO CHICKEN DIP: Preheat oven to 350°F. Combine all ingredients and spoon into shallow 1-quart baking dish. Bake 20 minutes or until mixture is heated through and stir. Serve with crusty bread or tortilla chips.
PIZZA DIP: Combine cream cheese, Italian seasoning and garlic salt; spread evenly over bottom of 13x9-inch baking pan. Sprinkle 1 cup Mozzarella cheese and 1 cup Cheddar cheese over cream cheese mixture. Spoon pizza sauce over cheese; top with remaining cheeses. Bake in preheated 350°F oven 20 minutes or until edges begin to brown. Top with thyme. Serve with pizza dough chips or bread sticks.
QUESO FUNDIDO DIP: Cook onion and sausage in a large skillet over medium heat until sausage is no longer pink and onion is tender, about 8 minutes. Pour off drippings. Stir in green chilies and cheese; transfer to a pie plate or quiche dish. Bake in preheated 375°F 15 to 18 minutes or until bubbly. Garnish with sliced fresh jalapeño pepper and paprika, if desired. Serve with tortilla chips.
---