Cheesy Shrimp Nachos
Prep Time: 10 MIN | Cook Time: 30 MIN | Servings: 6 | Calories: 900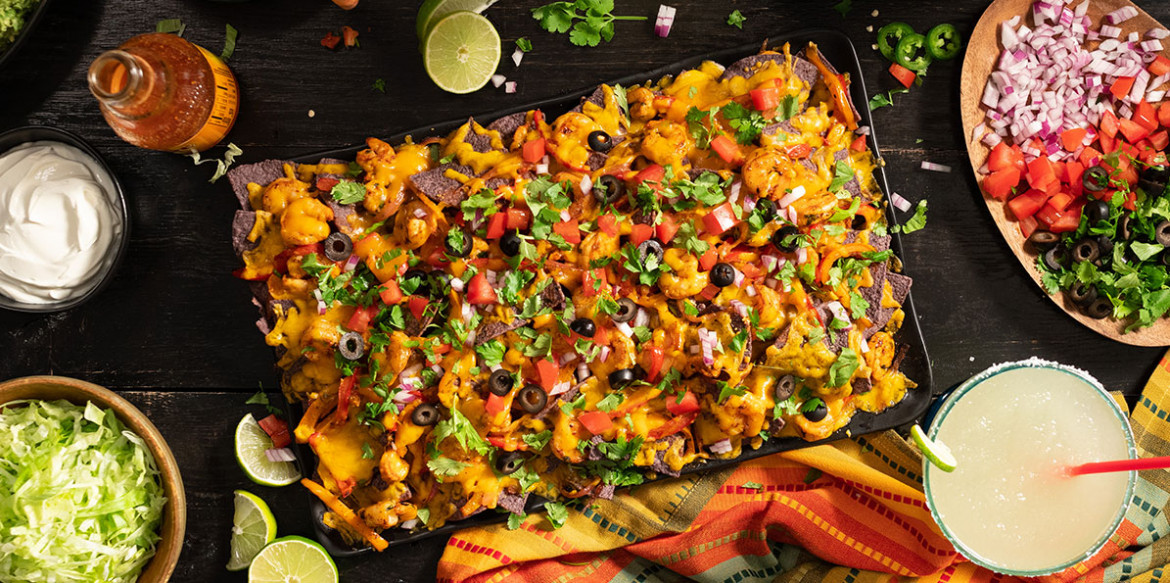 ---
<p>Tender shrimp, marinated with spices, lime juice, garlic and cilantro, then pan grilled with peppers and onions and piled high on blue corn tortilla chips with loads of Sargento® Shredded Mild Cheddar Cheese, tomatoes and jalapeno slices. Shredded lettuce, olives, pico de galloand fresh guacamole round out this plentiful pile of cheesy perfection.</p>
Ingredients
​1/2​​ cup ​​Fresh lime juice
​2​​ Tbsp.​​ Avocado oil
​1/2​​ cup​​ Fresh cilantro, finely chopped
​2​​ tsp.​​ Chili powder
​1​​ tsp.​​ Ground cumin
2​​ cloves ​​Garlic, minced
1 1/2​​lbs. ​​Uncooked medium shrimp, peeled and deveined
1​​ med.​​ Red bell pepper, cut into thin strips
1​​ med.​​ Orange bell pepper, diced
1​​ med.​​ Red onion, cut into thin strips
​1 ​​bag​​ Blue corn tortilla chips
4 ​​cups​​ Sargento® Shredded Mild Cheddar Cheese
1/2​​ cup​​ Diced tomatoes
​2 ​​med.​​ Jalapeno peppers, thinly sliced
​1/2 ​​cup ​​Diced red onion
1 ​​cup​​ Fresh cilantro leaves
OPTIONAL TOPPINGS: Shredded lettuce, sliced black olives, pico de gallo, sour cream, fresh guacamole
Directions
In a large bowl, combine lime juice and next 5 ingredients. Whisk to combine. Fold in shrimp. Cover and refrigerate for 1 hour.
Drain shrimp in a colander, discarding marinade.
Pre-heat a large non-stick or cast iron skillet over medium heat until hot. Add shrimp and saute', stirring quickly and often until shrimp are almost cooked through or opaque in color. Transfer to a large, shallow bowl and refrigerate to cool quickly.
Add red and orange peppers and red onions to pan. Saute' mixture for 2-3 minutes or until softened and slightly charred. Transfer to the large bowl of shrimp and toss mixture well.
To assemble nachos: Pre-heat oven to 375 degrees. Place a layer of chips on a large, ovenproof platter or baking sheet. Spoon half of the shrimp and pepper mixture over the layer of tortilla chips. Top with half of the cheese, another layer of tortilla chips, the remainder of the shrimp mixture and the remaining cheese.
Bake for 20 minutes or until cheese in well melted. Remove from oven and top with tomatoes, jalapeno slices, diced red onion and cilantro leaves. Serve with shredded lettuce, olives, pico de gallo, sour cream and guacamole on the side. Serve.
---