Cheese Soufflè
Prep Time: 20 min | Cook Time: 35 min | Servings: 6 | Calories: 312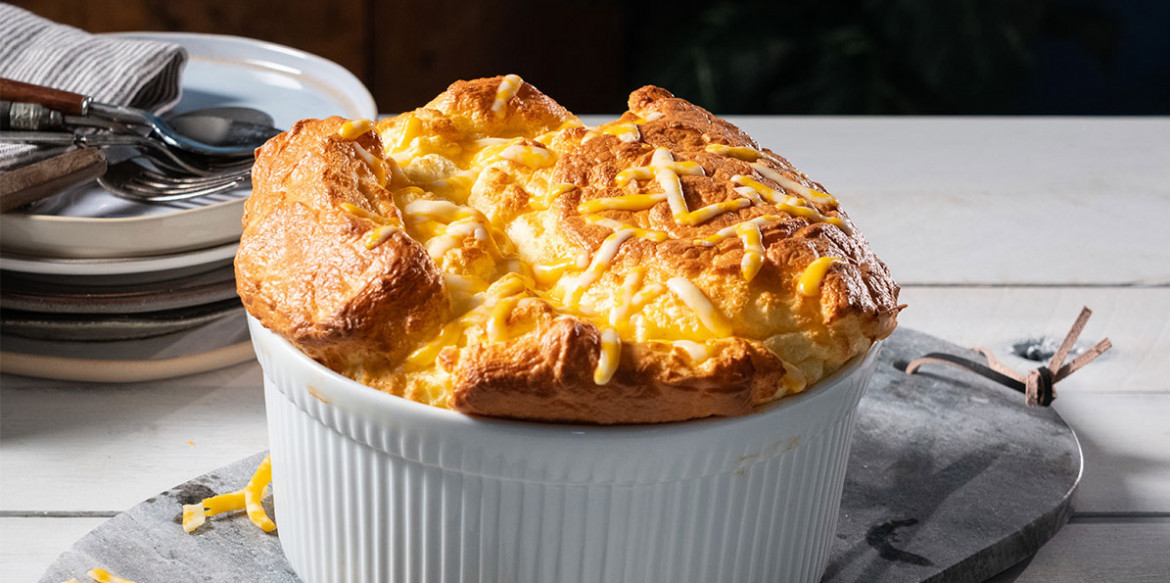 ---
<p>Whip up these beautiful and cheesy soufflés using Sargento®&nbsp;Shredded 4 State Cheddar Cheese with a blend of seasoning, fluffy eggs and cream of tartar. You'll impress your guests with a sumptuous side that pairs well with a refreshing salad sprinkled with bacon and your favorite dressing.</p>
Ingredients
1/4 cup plus 2 tsp. butter
1/4 cup all-purpose flour
1 cup milk
1/4 tsp. salt
1 pinch of pepper
4 large egg yolks
5 large egg whites
1/2 tsp. cream of tartar
Directions
Grease 2-quart souffl­é dish with 2 tsp. butter and sprinkle with 2 Tbsp. cheese.
Melt remaining butter in medium saucepan over medium heat. Whisk in flour; cook 1 minute; whisking occasionally. Whisk in milk, salt and pepper; bring to a simmer, whisking frequently. Add remaining cheese and whisk until melted (mixture will be thick.) Remove saucepan from heat.
Combine egg yolks and 3 Tbsp. of cheese mixture in medium bowl; whisk. Gradually whisk in remaining cheese mixture until well blended.
Beat egg whites with cream of tartar in electric mixer until stiff but not dry. Stir one-fourth of the whites into the cheese mixture to lighten; fold in remaining whites. Pour mixture into soufflè dish; bake in center of preheated 375°F oven 35 minutes or until puffed and browned. Gently sprinkle remaining cheese on top. Serve immediately.
---