Jalapeno Mac & Cheese with Corn & Tomato Salad Recipe
Prep Time: 20 Min | Cook Time: 20 Min | Servings: 12 | Calories: 6841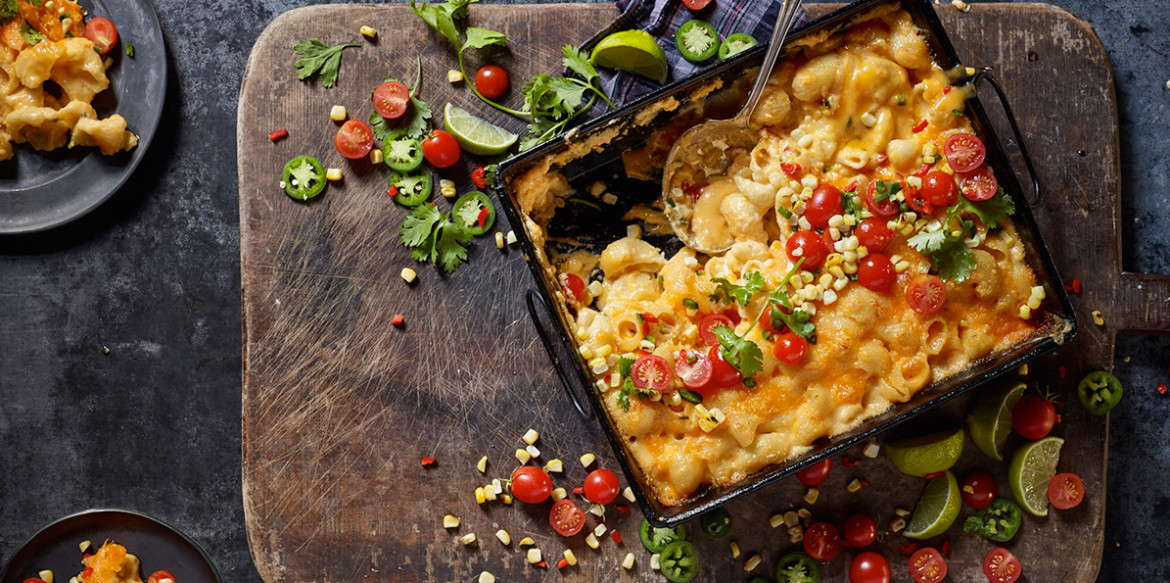 ---
If you like classic meals with a little kick, try this recipe for jalapeño mac and cheese with corn and tomato salad. Made with fresh ingredients—like whole milk, jalapeño peppers, cherry tomatoes, grilled corn, lime juice, cilantro and Sharp Cheddar cheese that's always shredded fresh off the block—this baked beauty will be your new best friend.
Ingredients
2 tsp. salt for pasta water
1 lb. dried macaroni
1/2 cup unsalted butter
6 Tbsp. all-purpose flour
4 cups whole milk
3/4 cup heavy cream
3 jalapeño peppers, seeded and diced.
1/2 tsp. salt for sauce, 1/4 tsp. salt for salad
1/2 tsp. ground white pepper
2 tsp. mustard powder
6 cups (24 oz.) Sargento® Shredded Sharp Cheddar Cheese - Traditional Cut, divided
2 ears grilled corn, removed from the cob
1/2 tsp. vegetable oil
6 oz. cherry tomatoes, halved
Juice from 1/2 lime
Handful of cilantro, roughly chopped
Directions
Preheat oven to 400° F with rack in the middle of the oven.
Cook pasta as directed in salted water until al dente. Drain and set aside.
Melt the butter in a large skillet over medium heat. Sprinkle flour over butter, whisking to incorporate and make a roux. Stir until roux is light golden, about 4 minutes. Pour milk and cream in gradually, whisking constantly. Raise heat to medium-high and bring sauce to a low boil, whisking constantly. Add the diced jalapeño peppers. Reduce to a simmer, whisking occasionally, and cook until sauce is thick and coats the back of a spoon, about 3 minutes more. Add 1/2 tsp salt, pepper and mustard powder to sauce. Add 4 cups cheese slowly, whisking until each addition is incorporated before adding more. Remove from heat.
Very Important: Immediately add the drained pasta to the pot with the cheese sauce and stir well to coat. Transfer pasta mixture to a buttered 13x9 inch baking dish and place on a rimmed baking sheet, in case it bubbles over. Top with remaining cheese and bake until golden, 18-22 minutes.
While macaroni and cheese is baking, combine 1/4 tsp salt, corn, vegetable oil, tomatoes, lime and cilantro and gently toss.
Let pasta cool for 15 minutes, top with corn salad and serve.
---