Shrimp Po-Boy
Prep Time: 10 Min | Cook Time: 15 Min | Servings: 3 | Calories: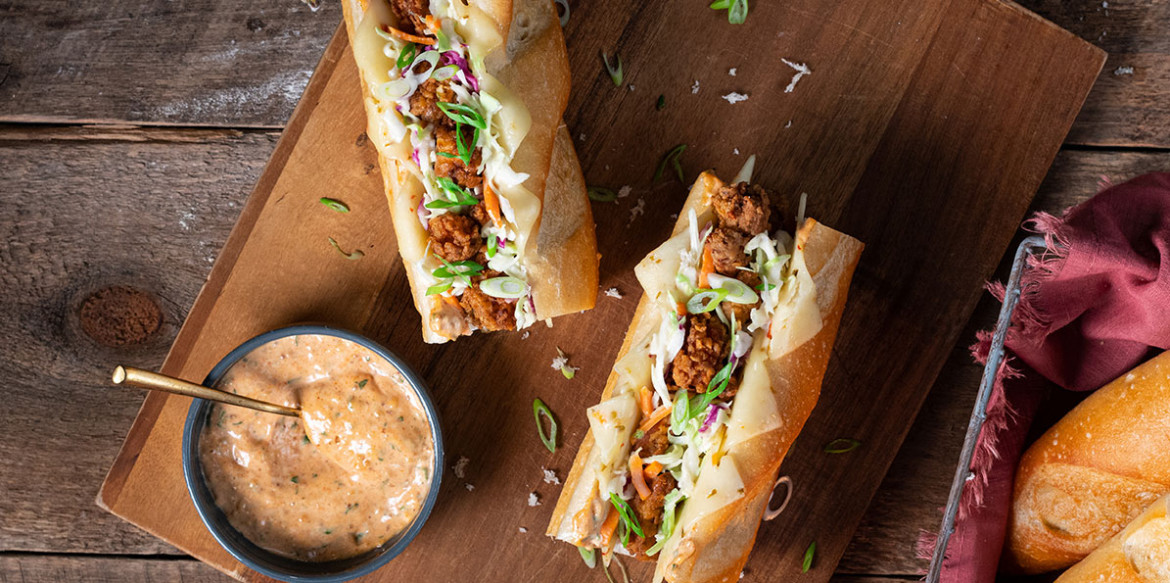 ---
This twist on the classic Shrimp Po-Boy adds Sargento® Slices Pepper Jack Cheese for a little extra zing in your sandwich! There is never a wrong time to eat this delicious and comforting meal.
Ingredients
FOR SANDWICH:
1 quart Oil, for frying
1 Tbsp. Spicy mustard
1 Egg, whipped
¼ cup Buttermilk
1 ½ cup Fish fry
1 lbs. small shrimp, peeled and de-veined
2 Tbsp. Cajun seasoning
3 French bread, cut 6 inch.
1 cup Cole slaw, prepared
FOR SAUCE:
1 cup Mayonnaise
2 Tbsp. spicy mustard
1 Tbsp. Lemon juice
1 Tbsp. Parsley, chopped
1 Tbsp. Hot sauce
2 tsp. Ketchup
2 tsp. garlic powder
1 tsp. Worcestershire sauce
1 tsp. Smoked paprika
1 Scallion, finely chopped
½ tsp. Salt
Directions
Pour oil into deep fryer. If you don't have a deep fryer, use a 10 inch heavy skillet or cast iron/ Fill no more than 1/3 full. Heat on medium-high heat to 350°F.
Season shrimp with Cajun seasoning. Allow to set for 5 minutes to marinate. Meanwhile, mix spicy mustard, egg, and buttermilk in shallow dish-mix well.
Coat each shrimp in fish fry, buttermilk mixture and fish fry again. Shake off any excess batter. Carefully add to hot oil, a few pieces at a time. Fry for about 4 to 5 minutes or until golden brown. Remove to a plate lined with a paper towel.
To make sauce, add all ingredients in a small bowl and mix well with a whisk.
To assemble sandwich, spread sauce on both sides of bread and line both side of the hoagie bun with the pepper jack cheese. Toast in the oven on 350 F. for about 2 minutes just until the cheese starts to melt. Remove from oven. Top cheese with shrimp and coleslaw. Serve.
---