Roasted Vegetable Pita
Prep Time: 15 Min | Cook Time: 20 Min | Servings: 4 | Calories: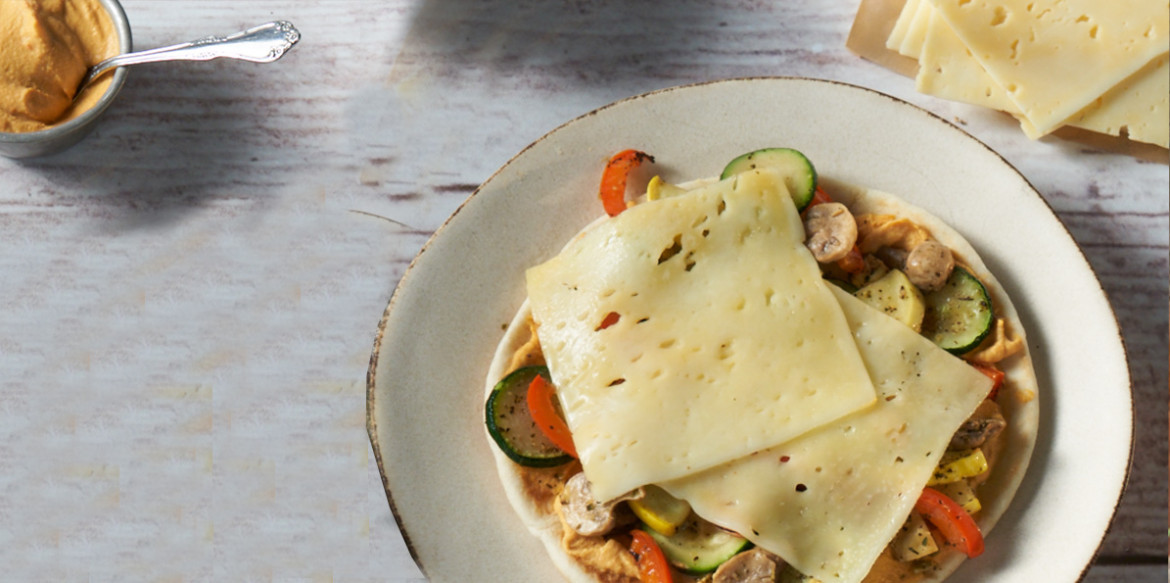 ---
Veggie lovers will be amazed by the multitude of flavors found in this sandwich. Zucchini, yellow squash, mushrooms, onions, eggplant and red peppers are drizzled with olive oil and balsamic vinegar, then seasoned with Italian seasoning, salt and pepper, then roasted and piled high on grilled pita bread with Reserve Series™ Aged Gouda, prepared hummus and chopped parsley.
Ingredients
1 cup Zucchini, thinly sliced
1 cup Yellow squash, thinly sliced
1 cup Button mushrooms, sliced
1 cup Eggplant, peeled, diced
1 cup Red bell pepper, seeded and cut into strips
2 Tbsp. Balsamic vinaigrette dressing
1 Tbsp. Italian seasoning
3/4 cup Prepared hummus (plain or flavored)
Salt and pepper to taste
4 ea. Pita flatbreads
Directions
Spray a large baking sheet with non-stick spray. Place oven rack 4-6 inches from top heating element. Pre-heat oven to broil.
In a medium bowl, combine zucchini and next 8 ingredients and toss until vegetables are well coated with seasoning and dressing.  Spread vegetables onto the baking sheet and place on top shelf of oven. Broil for 3-4 minutes or until lightly charred and crisp tender. Remove from oven. Transfer mixture back to bowl and let cool while preparing pitas.
Brush pitas with juices from roasting vegetables. Grill pitas in a large skillet or over a pre-heated grill for 1-2 minutes over medium heat until golden brown. Transfer grilled pitas to a plate and let cool for 5 minutes.
To assemble: Spread hummus evenly onto pitas. Place one slice of cheese over hummus. Spoon roasted vegetables over cheese. Top with remaining slice of cheese. Serve.
---