Stuffed Acorn Squash with Cheese and Ground Beef
Prep Time: 25 MIN | Cook Time: 1.5 HRS | Servings: | Calories: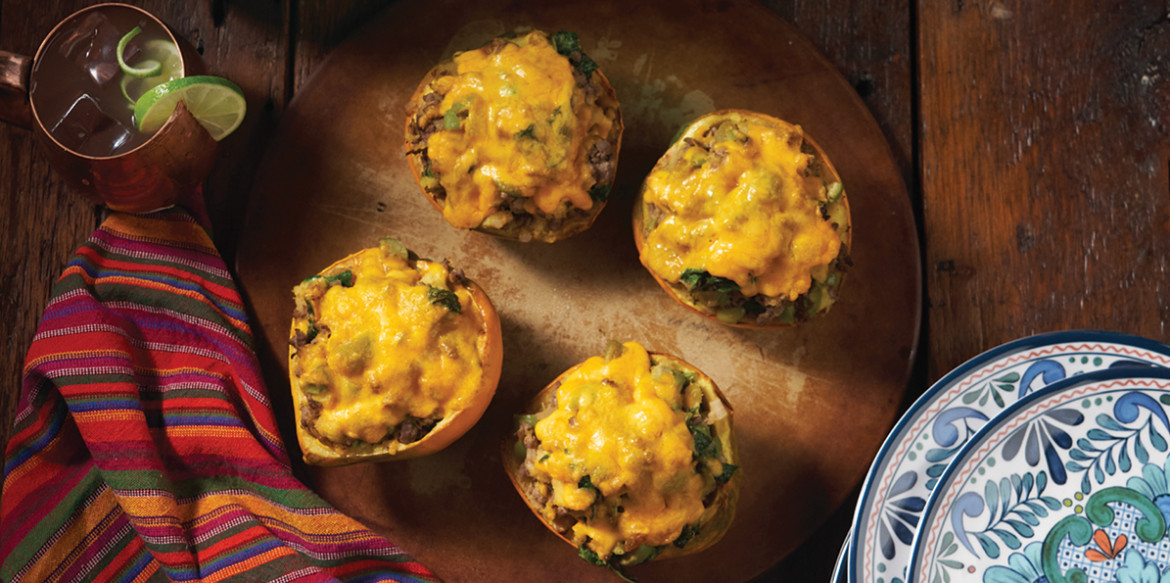 ---
Acorn squash or butternut squash is seeded and stuffed with a mixture of ground beef, Sargento® Shredded Sharp Natural Cheddar Cheese, onions, garlic, raisins, and olives and then baked for a satisfying dinner.
Ingredients
2 medium acorn or butternut squash
2 tablespoons olive oil, divided
2 teaspoons kosher salt, divided
1 medium yellow onion, finely chopped
2 garlic cloves grated
1 teaspoon ground coriander
1 teaspoon ground chipotle powder
1 pound ground beef
2 cups packed baby kale leaves
1/2 cup yellow raisins, chopped
1/2 cup pitted green olives, chopped
Zest and juice of 1 lemon
Directions
Preheat oven to 400F. Line a roasting pan with parchment paper.
Cut each squash in half lengthwise; using a metal spoon remove the seeds and discard. Brush inside of squash with 1 tablespoon olive oil and season with 1 teaspoon of kosher salt.
Place squash halves cut side down on the prepared roasting pan and bake for 50 minutes to 1 hour or until easily pierced with a knife. While the squash bakes, heat remaining olive olive oil in a large skillet over medium high heat. Add onion and cook until translucent, about 2 minutes. Stir in garlic, cumin, chipotle and continue cooking, stirring often, until fragrant, about 30 seconds.
Add ground beef to the onion and spices mix, until browned, approximately 3 to 4 minutes.
Season with remaining salt, stir in kale, raisins and olives. Taste and adjust seasoning if desired.
Turn on the broil setting of your oven to high.
Turn baked squash over and using a metal spoon scrape the soft roasted squash meat leaving a thin layer to keep the shell whole. Add the squash to the meat filling and stir to combine. Pour in lemon juice and zest.  Divide mixture evenly between the cavity of each squash half. Sprinkle with Sargento® Shredded Sharp cheddar and return to the oven and broil, watching carefully, until cheese melts and browns about 2 minutes.
---