Pastor Gringa
Prep Time: | Cook Time: | Servings: 8 | Calories: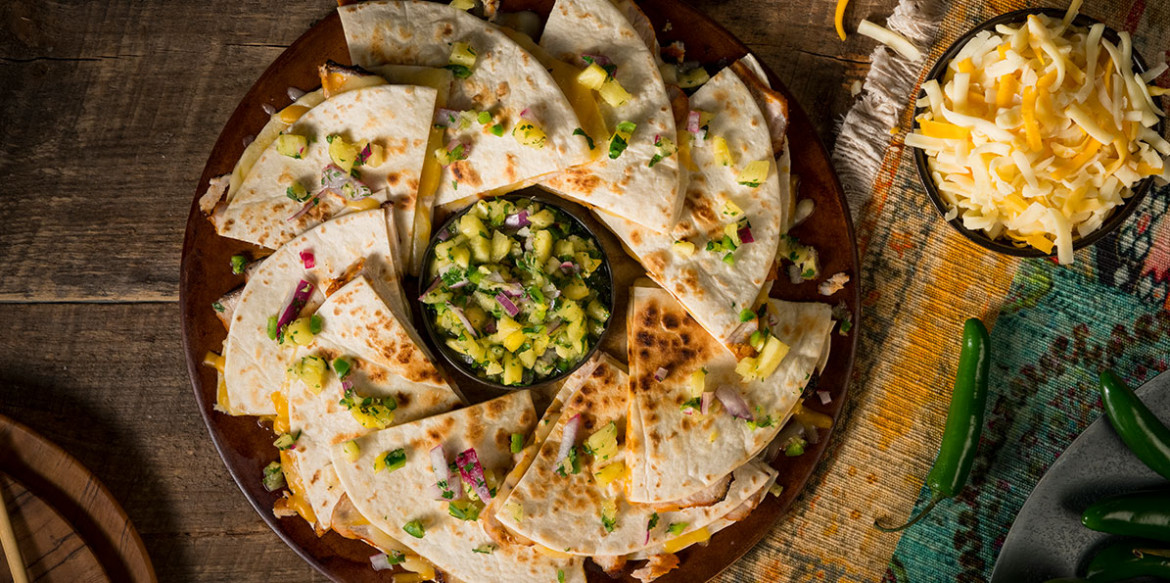 ---
A homemade version of the delicious street tacos of Mexico, marinated, grilled pork is paired with Sargento® Shredded 4 Cheese Mexican and melted to a savory goodness between tortillas. Serve them with a pineapple pico de gallo.
Ingredients
PASTOR ADOBO:
2 Guajillo chilies, seeded, stems removed
1/2 Ancho chili, seeded, stem removed
1 cup Boiling water
1/4 White onion
2 Garlic cloves
1/4 tsp Dried oregano
1 Clove
1 Allspice
1 Bay leaf
1/8 tsp Ground cumin
2 Tbsp White vinegar
2 Tbsp Pineapple juice
Salt and pepper to taste
PASTOR MEAT:
4 - 4 oz Boneless pork chops
1/2 cup Pastor adobo
2 Tbsp Vegetable oil
GRINGAS:
8 Large tortillas
PICO DE GALLO:
2 cups Pineapple, peeled and chopped
6 Tbsp Red onion, chopped
1 Serrano chili, seeded and chopped
2 Tbsp Lime juice
Salt to taste
Directions
PASTOR ADOBO: Soak chilies in boiling water for 10 minutes or until very soft and pliable. Blend chilies with half of the soaking liquid and the rest of the adobo ingredients. Pass through a fine sieve. Reserve.
PASTOR MEAT: Marinate the pork chops with the adobo for at least 30 minutes. Broil the chops on both sides (if possible, char broil for better taste). Thinly slice the chops at a slated 45 degree angle. Reserve.
GRINGAS: Place 4 tortillas on a work surface. Add 3/4 cup cheese to each tortilla and spread to cover the tortilla completely. Divide the pastor meat into 4 equal portions and sprinkle over each tortilla with cheese. Cook, cheese side down, on a skillet over medium heat until the tortilla is golden. Flip and cook until the other side is golden and cheese is melted. Remove from heat and cut into fourths.
PINEAPPLE PICO DE GALLO: Mix all ingredients and season with salt to taste. Reserve.
ASSEMBLY: Place gringa on a warm plate and serve with pineapple pico de gallo. Enjoy!
---