Huevos Ahogados | Drowned Eggs
Prep Time: 20 MIN | Cook Time: 30 MIN | Servings: | Calories: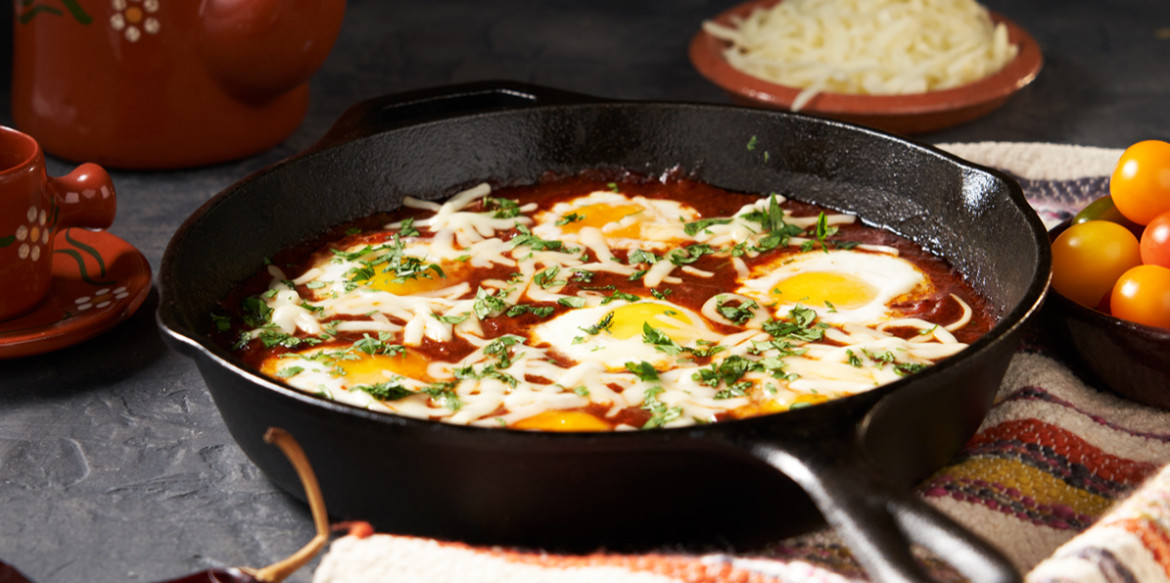 ---
Huevos ahogados or drowned eggs is the perfect time-saving breakfast to prepare for a large crowd. A simmering tomato and guajillo sauce cooks the eggs while at the same time incorporating its delicious flavor. Top with Sargento® Shredded Mozzarella Natural Cheese and fresh cilantro for the ultimate breakfast feast.
Ingredients
2 dried guajillo peppers, seeds and stems removed and wiped clean
1 Serrano pepper, stem removed (optional.) Serranos peppers tend to make this dish extra spicy. Omit if you prefer a milder version.
¼ piece white onion
1 garlic clove, unpeeled
1 (14.5) can fire roasted tomatoes
½ teaspoon dried Mexican oregano
½ teaspoon salt
2 tablespoons cooking oil
8 large eggs
½ cup Sargento® Shredded Mozzarella Natural Cheese
2 tablespoons fresh cilantro, chopped
Directions
Combine guajillo peppers and 4 cups water in a medium saucepan over medium heat. Bring to a boil and immediately turn off heat. Let peppers soak and hydrate for 15 minutes.
Heat a large skillet over high heat. Place serrano pepper (optional), onion and garlic clove on skillet and roast, turning frequently with tongs, until char spots form. Remove garlic clove and peel.
Transfer peeled garlic clove, serrano, onion, canned roasted tomatoes, hydrated guajillo peppers to a blender. Add 1/2 cup water, oregano and salt. Blend until smooth.
Heat oil in a large sauté pan over medium heat. Carefully pour in sauce. Simmer for 10 minutes, stirring frequently.

If sauce is too thick, add water ¼ cup at a time until desired consistency.
Carefully crack eggs into sauce, keeping eggs 2 inches apart from one another. Cook for 10 minutes, or until desired doneness.
Remove from heat. Sprinkle with cheese and cilantro. Cover and let cheese melt for 2 minutes before serving. Serve 1-2 eggs per person.
---