Torta Al Pastor
Prep Time: 30 Min | Cook Time: 10 Min | Servings: 4 | Calories: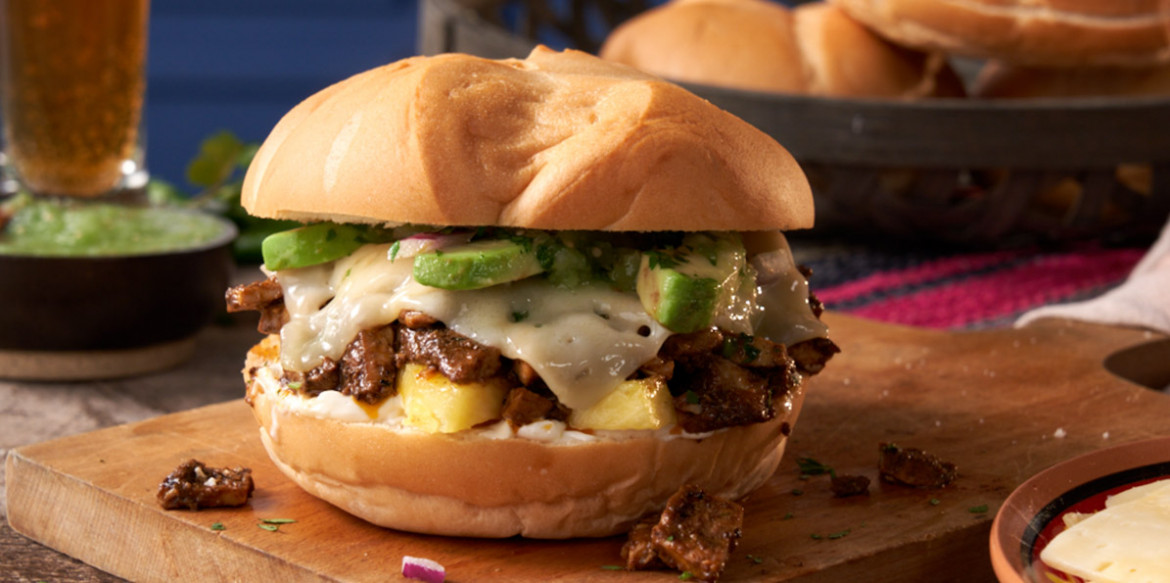 ---
This torta is layered with adobo pork, fresh green salsa and sliced Sargento® Havarti Cheese for a sandwich that will make your tastebuds sing!
Ingredients
FOR TORTA:
4 lg. telera rolls
1 cup Pineapple, sliced
1 Avocado, sliced
4 Tbsp. Red onion, chopped
1 cup Mayonnaise
1/4 cup Cilantro, chopped
FOR GREEN SALSA:
4 Tbsp. Cilantro, chopped
4 lg. Tomatillos, husks removed
1/4 small Onion
1 clove Garlic
1/4 cup Jalapeno, sliced
FOR PASTOR MEAT:
3 Tbsp. Vegetable oil
1/2 cup Pastor adobo
1 lb. Pork loin, thinly sliced
FOR PASTOR ADOBO:
Salt and pepper to taste
2 Tbsp. Pineapple juice
2 Tbsp. White vinegar
1/8 tsp. Cumin
1 ea. Bay leaf
1 ea. clove
2 ea. Garlic cloves
1 cup Onion, chopped
1 cup Boiling water
1/2 Ancho chili
2 ea. Guajillo chili
Directions
Prepare the pastor adobo: Deseed and remove stems from chilis. Soak chilis in boiling water for 10 minutes or until very soft and pliable. Blend chilis with half of the soaking liquid and the rest of the adobo ingredients. Pass through a fine sieve and reserve.
Prepare the pastor meat: Marinate the sliced pork loin with the adobo and oil for at least 30 minutes. Broil the meat on both sides (if possible, char broil for a better taste). Roughly chop the pastor meat and reserve.
Prepare the fresh green salsa: Blend all the ingredients until smooth and season with salt to taste. Reserve.
Assemble the tortas: Cut the telera rolls horizontally in half. Spread all halves with 2 tbsp each of mayonnaise. Divide the warm pastor meat and the sliced pineapple between the four telera roll bottoms, top each torta with 2 slices of cheese and place in a toaster oven until completely melted. Remove from oven, add avocado slices, sprinkle each one with 1 tbsp of chopped red onions and cilantro, add fresh green salsa to taste, cover with the telera tops & enjoy!
---