Chiles Rellenos
Prep Time: 40 Min | Cook Time: 45 Min | Servings: | Calories: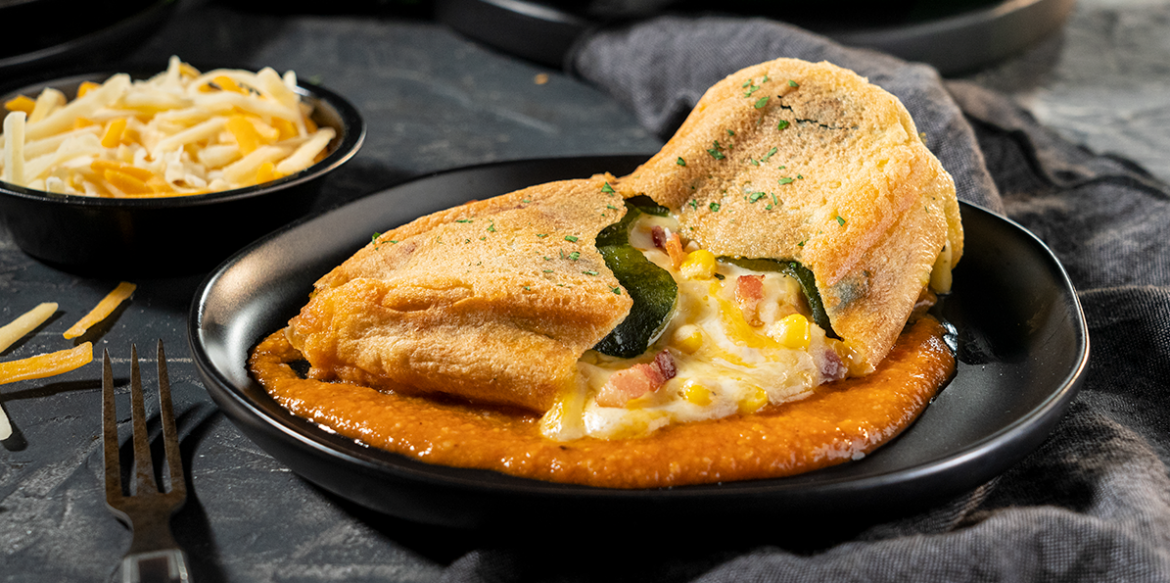 ---
Poblano chili peppers are stuffed with bacon, onions and Sargento® 4 Cheese Mexican, and then served over a creamy red sauce.
Ingredients
4 large poblano chili peppers
For the Sauce:
1 lb roma tomatoes
¼ onion
2 cloves garlic
1 corn tortilla cut into fourth
2 Tbsp vegetable oil
1 ½ chicken stock or water
Salt to taste
For the Stuffing:
1 Tbsp Vegetable oil
4 slices smoked bacon (thick cut), chopped
½ cup onions chopped
1 cup corn kernels
For the Batter:
½ cup flour
4 room temperature eggs separated
1 cup vegetable oil
¼ tsp salt
Directions
Place chili peppers on top of gas burner and roast over open flame (or on skillet) until skin is blistered and charred, (DO NOT BURN THE STEM) transfer to plastic bag and seal tightly, let them steam for 10 minutes. Rub skin off using paper towels, cut a 3-inch slit, remove seeds completely using a spoon.
Roast tomatoes, onion, and garlic on a skillet over medium heat until skins from tomatoes to char peel, remove all ingredients from skillet and leave to cool for 3 minutes. Peel off tomato skins. Briefly fry tortilla in 1 Tbsp of oil for 10 second on both sides. Place tomatoes, onion garlic, fried tortilla, chicken stock and blend until smooth. Heat 1 Tbsp of oil in a sauce pan, add the salsa, season with salt to taste and cook on medium heat for 15 minutes stirring constantly.
Heat the oil and fry the bacon until starting to brown, add the onion and sauté until translucent, add corn kernels and cook for 2 more minutes, remove from heat, and leave to cool. Mix with cheese and divide mixture into 4 equal parts, stuff each chili with cheese mixture.
Dredge stuffed chilies in flour and shake the excess off, set aside. Beat egg whites until stiff peaks form, add egg yolks and continue beating until just incorporated, fold in 4 Tbsp of flour and salt. Heat oil in large skillet on medium heat, dip each chili (holding it from the stem) into the batter and cover completely and fry both sides until golden brown.
Pour ¾ cup of warm salsa onto a plate, place stuffed chili on top and serve.
---