Cheesy Potato Flautas
Prep Time: 35 Min | Cook Time: 25 Min | Servings: | Calories: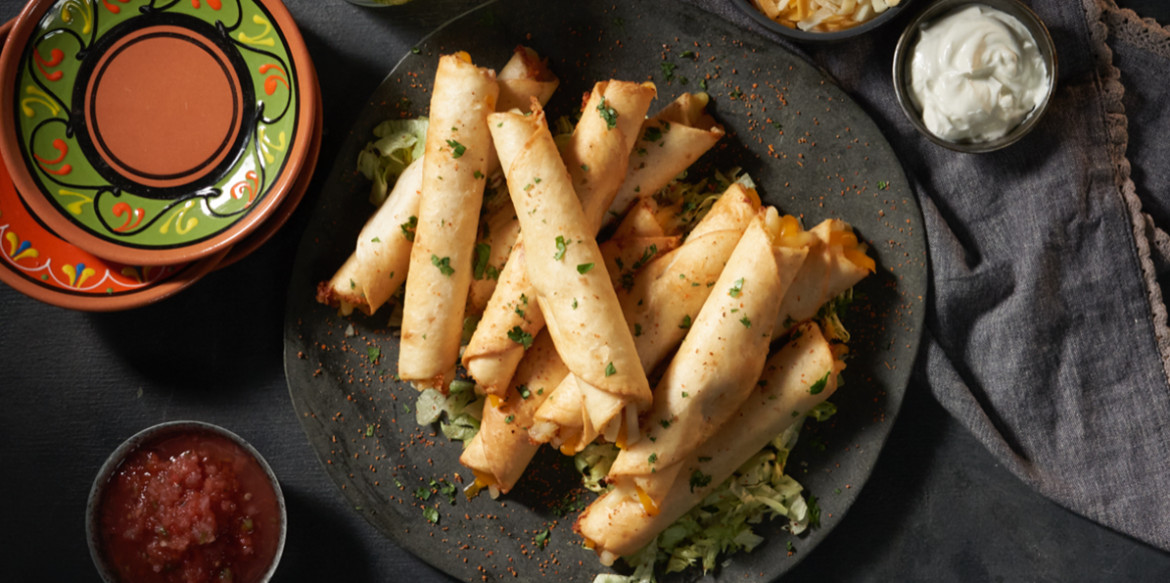 ---
Sargento® 4 Cheese Mexican is combined with mashed potatos and rolled into corn tortillas and fried until golden brown.
Ingredients
1 lb. fully cooked and peeled Russet Potatoes
2 Tbsp. Vegetable oil
¾ cup chopped Onion
2 cups Sargento® 4 Cheese Mexican
Salt and pepper to taste
12 (8 in.) Corn tortillas
2 cups shredded Iceberg lettuce
1 cup Sour cream
1 cup Red Salsa
1 peeled and sliced Avocado
¼ cup chopped Cilantro
Directions
Mash the potatoes until smooth. Heat the oil and sauté onion and until lightly browned, add the mashed potatoes and cook for 2 more minutes. Incorporate Sargento® 4 Cheese Mexican and season with salt and pepper to taste. Mix until the cheese is completely melted. Remove from heat and set aside.
Heat the tortillas just to soften and divide the cheesy potato filling into 12 equal size portions. Spread the filling along the length of each tortilla and roll into a flute shape, secure with a wooden toothpick. Repeat with the rest of the tortillas. Heat the oil and fry the flautas until crispy and golden brown. Drain on paper towels.
Top the flautas with lettuce, sour cream, salsa, avocado and cilantro. Serve warm.
---