Caramelized Onion, Eggplant & Cheese Soup
Prep Time: 15 Min | Cook Time: 45 Min | Servings: | Calories: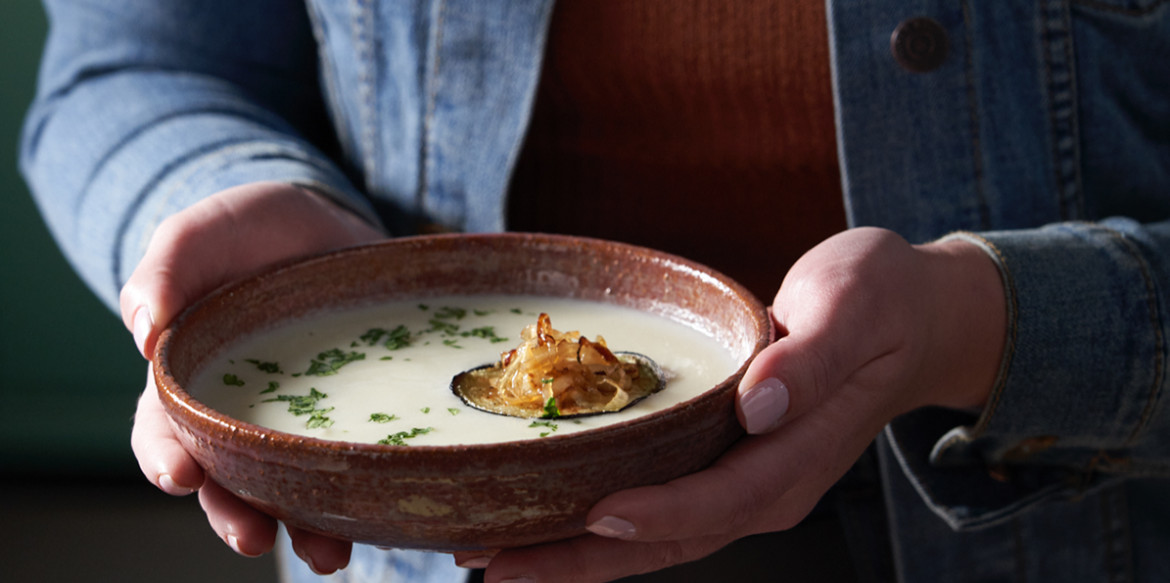 ---
Mote de queso is a classic cheese soup from the Sinú River Valley near the northern coast of Colombia. Traditionally, this soup is made with a white yam also known as ñame which has tangy and starchy qualities and local salted farmers cheese. This is an adaptation for you to enjoy with readily available cauliflower and delicious Sargento® Aged White Cheddar.
Ingredients
1 Tbsp. canola oil
2 medium yellow onion, chopped
4 medium cloves garlic, grated
5 scallions, chopped, white and light green parts only
2 Tsp. Kosher salt
5 pounds cauliflower, cut into florets
1 pound Sargento® Aged white cheddar cubes or slices
Caramelized Onion and Eggplant Garnish:
3 tablespoons olive oil, divided
1 small yellow onion, thinly sliced
2 medium eggplants, sliced into 1/4" rounds
1/2 teaspoon kosher salt
1/2 teaspoon freshly ground black pepper
Garnish:
1 ¼ cups sour cream to serve
2 cups cilantro leaves
Directions
Heat oil in a large dutch oven (enough to hold 8 cups of water), add onions and cook over medium heat, stirring often until softened, about 6 to 7 minutes. Add garlic and scallions and cook until fragrant, 30 to 45 seconds. Season with salt.
Cover with 8 cups of water. Add cauliflower and cover. Cook over medium heat until it comes to a boil. Cook, stirring now and again, until cauliflower is almost entirely dissolved, 12 to 25 minutes. Turn off the heat and working in batches, transfer the soup to the blender and blend until creamy. Return to the dutch oven and keep warm.
Meanwhile, prepare the Caramelized Onion and Eggplant Garnish. Heat olive oil in a medium skillet over medium heat. Add onion slices, lower the heat to low and cook, stirring often, until browned and softened, about 15 minutes. Remove caramelized onions from the skillet and pour in remaining olive oil. Increase the heat to medium high, add eggplant, season with salt and pepper and cook until brown on both sides about 4 minutes per side
Right before serving bring the soup back up to a simmer and add in ¾ of the cheese and stir to combine. Serve the mote in individual bowls, top with remaining caramelized onion and eggplant, remaining cheese, a dollop of sour cream and a sprinkle of cilantro.
---