Lettuce Wrapped Cheeseburger Recipe
Prep Time: 10 Min | Cook Time: 20 Min | Servings: 4 | Calories: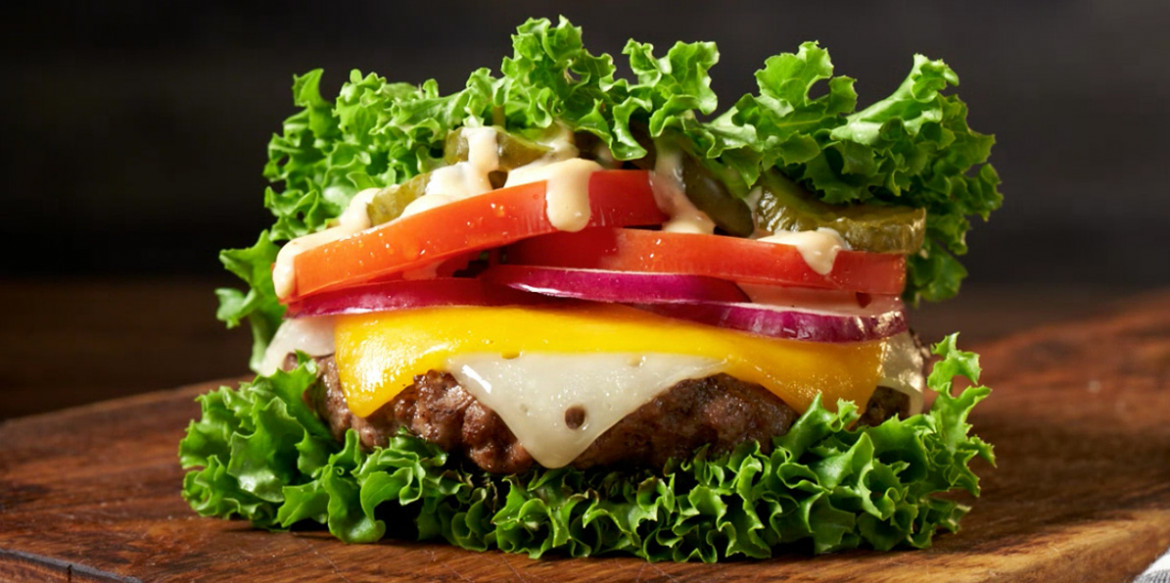 ---
This bunless burger has all the flavors you'd find at a resturant, except this one is wrapped with fresh lettuce instead of a bun. It's also made with beef and topped with cheddar and swiss cheeses.
Ingredients
1 ½ lbs. Ground sirloin
1 tsp. Kosher salt & Black pepper
¼ cup Prepared thousand island dressing
8 leaves Green leaf lettuce, washed, patted dry
8 slices Tomato
12 ea. Red onion rings
12 slices Pickle
Directions
Combine ground sirloin, salt and pepper in a large bowl. Form into four equal patties.
Pre-heat a large cast iron or non-stick skillet over medium heat. Add hamburger patties. Cook for 4-5 minutes or until well browned. Flip burgers and cook an additional 2-3 minutes. Place 1 slice of Swiss and 1 slice of cheddar on each burger. Cook an additional 1-2 minutes or until cooked to desired doneness. Transfer to a plate lined with paper towel. Let rest for 5 minutes.
To assemble each burger, fold 2 lettuce leaves in half and stack to make 4 layers. Place one cheeseburger on lettuce. Spoon 1 tablespoon of dressing onto cheese. Place 3 pickle slices over dressing. Place 2 tomato slices over pickles. Place 3 onion rings on top of tomato slices. Top with 2 more folded leaves of lettuce. Wrap with parchment or waxed paper. Repeat with remaining burgers. Serve.
---