Tomato and Zucchini Grilled Pizza Recipe
Prep Time: 15 Min | Cook Time: 20 Min | Servings: | Calories: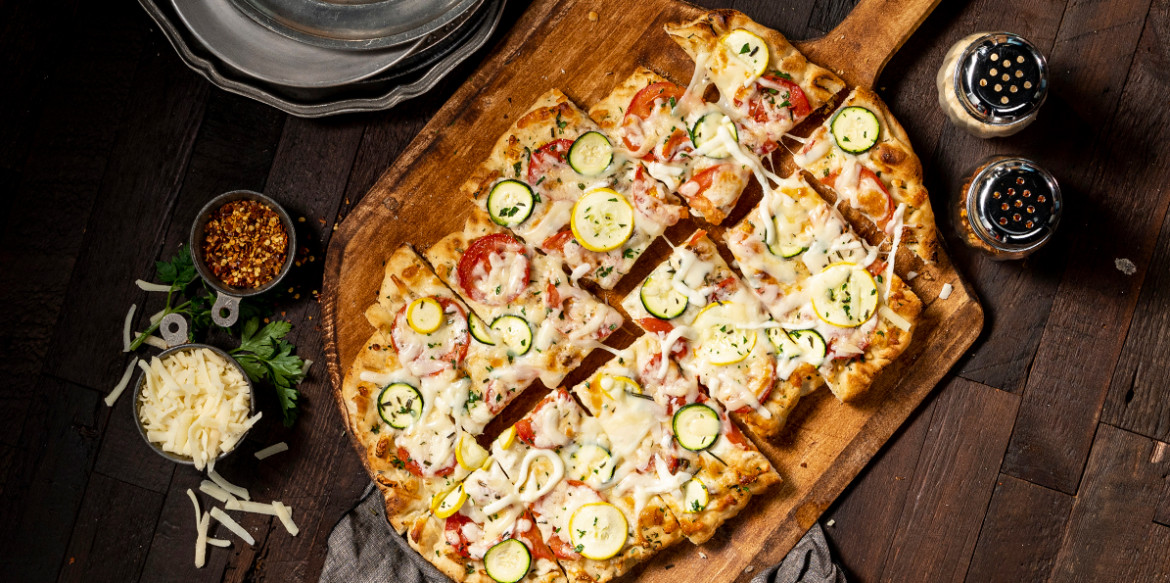 ---
This grilled pizza uses a thicker dough with fresh chopped rosemary and parsley pressed into the dough, reminiscent of Italian focaccia bread. Thin sliced roma tomatoes, diced zucchini, yellow squash and lots of Reserve Series™ Aged Italian Blend round out this veggie pizza.
Ingredients
1 lb. Fresh pizza dough
1 Tbsp. Flour
1 Tbsp. Olive oil
1 tsp. Fresh chopped rosemary
1 tsp. Fresh chopped parsley
1 tsp. Coarse cornmeal
2 small Roma tomatoes, thinly sliced
1 package Reserve Series™ Aged Italian Blend
1/2 cup Summer squash, sliced
1/2 cup Zucchini, sliced
Salt and pepper to taste
Directions
Pre-heat gas or charcoal grill to approximately 400 degrees, leaving half of grill unheated. Coat dough with half of olive oil and place on a baking sheet.  Cover with plastic wrap.  Let rest at room temperature for 30 minutes. 
Sprinkle flour onto a clean flat surface or countertop. Place dough on counter and slide dough over floured surface to coat the dough completely.  Flip dough over and slide dough over surface again to coat dough with flour. 
Roll out dough with a rolling pin until approximately 13"X 9".  Rub remaining olive oil over rolled out dough.  Sprinkle fresh herbs over top of dough and press into dough with your finger tips.
Sprinkle cornmeal onto a pizza peel or thin, flat baking sheet. Place rolled out dough over cornmeal.  Jiggle pan to make sure the dough doesn't stick to the peel.  Open lid of grill.  Slide pizza dough onto hot grill grate, making sure to use an oven mitt to shield you from the heat.  Grill for 3 minutes or until lightly browned.  Using a pair of tongs, flip pizza crust and grill an additional 3 minutes or until lightly browned.  Transfer crust to the pizza peel or baking sheet and set aside.
Place tomato slices evenly over pizza crust. Sprinkle all of cheese over tomatoes.  Top with diced squash and zucchini.  Slide pizza back onto grill over indirect heat.  Cover grill and cook for 10-15 minutes or until cheese has melted and crust is golden brown.  Remove pizza from grill using a large spatula or pizza peel.  Cut into pieces and serve.
---