Italian BLT Burger Recipe
Prep Time: 15 min | Cook Time: 20 min | Servings: 4 | Calories: 647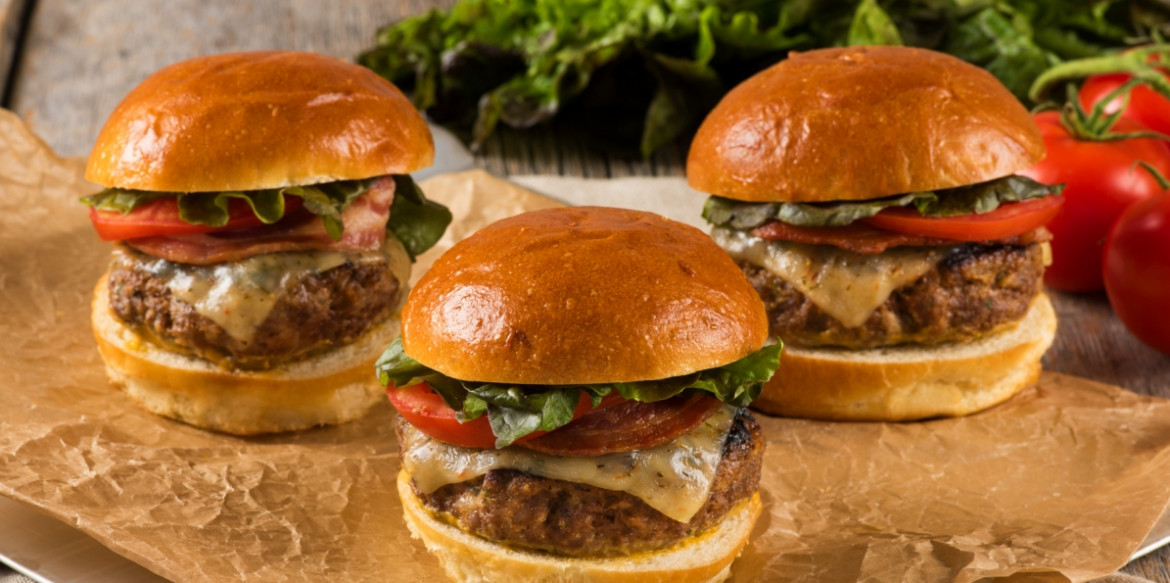 ---
Here's a little change of pace for summer burgers. Make these with a mixture of ground beef and Italian sausage, grill them to perfection, then melt on slices of Sargento® Pepper Jack Cheese and add crispy grilled pancetta slices. Top with lettuce, tomato and your favorite condiments.
Ingredients
1 lb. lean ground beef
4 red leaf lettuce leaves
4 brioche hamburger buns
8 thin slices pancetta
4 slices Sargento® Pepper Jack Cheese
1/4 tsp. pepper
1/2 tsp. salt
1 egg
1 Tbsp tomato paste
2 Tbsp grated onion
1/3 cup bread crumbs
1 Italian sausage, casing removed (about 4 oz.)
4 slices tomato
Directions
Mix together ground beef, sausage meat, bread crumbs, onion, tomato paste, egg, salt and pepper. Divide into 4 portions and shape into 1/2-inch patties.
Preheat grill to medium-high heat; grease grate well. Grill patties for 6 to 8 minutes per side or until grill-marked and cooked through. Top each patty with cheese and cook for about 1 minute or until cheese starts to melt.
Meanwhile, grill pancetta for 3 to 4 minutes or until golden and crispy. Grill buns for about 1 minute or until toasted. Assemble burgers in buns with lettuce, tomato and pancetta.
Tip: Serve with classic burger condiments such as ketchup, mayonnaise and hot mustard.
---