Creamy Patty Melt
Prep Time: | Cook Time: | Servings: 4 | Calories: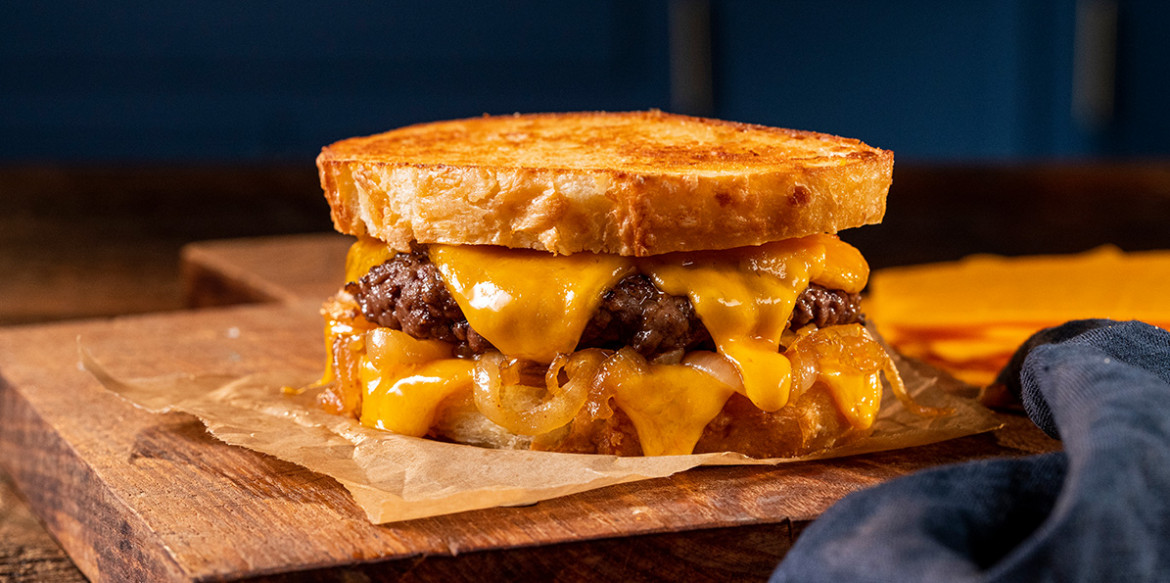 ---
You'll crave this creamy cheddar patty melt. A burger is pan fried with onions in butter, then served on grilled sourdough bread with sliced Sargento® Creamery Cheddar or Swiss cheese.
Ingredients
2 med. onions, thinly sliced
5 tbsp. butter, softened, divided
8 slices sourdough bread
4 ea. pre-formed beef or plant based burgers
Directions
Spread butter evenly over one side of each slice of bread, reserving 1 tablespoon for onions.
Pre-heat a large non-stick skillet over medium heat. Add 2 slices of bread, butter side down. Place 2 slices of cheese over each slice of bread. Grill for 2-3 minutes or until cheese is melted and bread is golden brown.
Remove slices from pan and set aside. Repeat with remaining slices of bread and cheese.
Melt remaining butter in the same pan. Add burgers and onions. Cook for 4-5 minutes, stirring onions occasionally.
Flip burgers, stir onions and cook an additional 4-5 minutes or until burgers and onions are browned. Place burgers on grilled bread. Spoon fried onions over burgers. Top with remaining grilled bread slices. Cut burgers in half and serve.
Note: These burgers can be made with ground beef burgers if you prefer.
---