Spicy Hot Reuben Sandwich
Prep Time: 5 Min | Cook Time: 10 Min | Servings: 4 | Calories: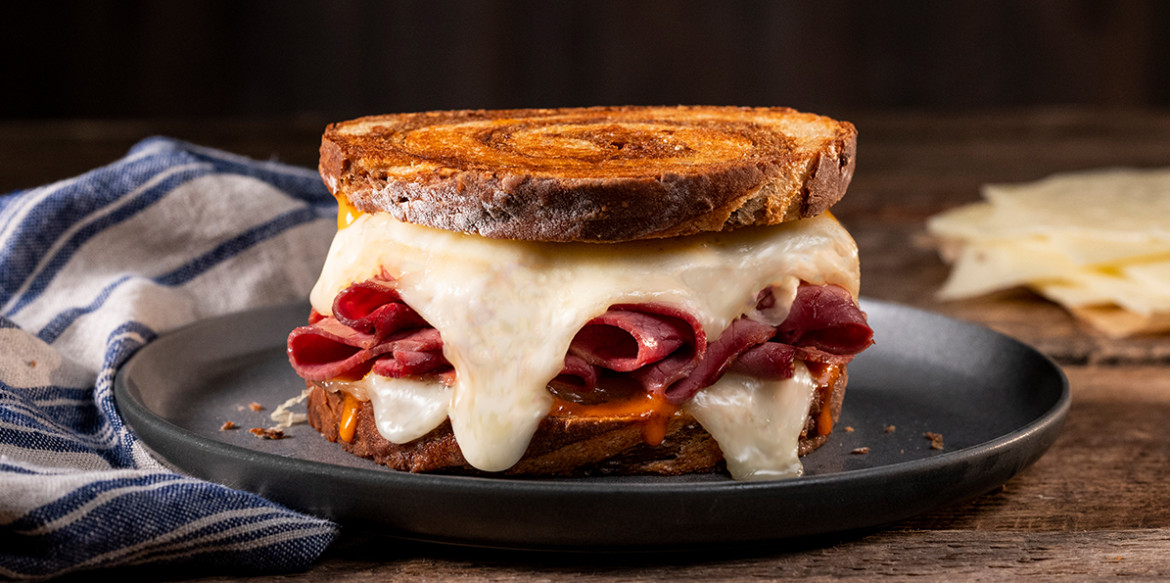 ---
This is a classic reuben except this version adds some kick thanks to the sriracha hot sauce that is added to the thousand island dressing. Combine that with corned beef, sauerkraut, and plenty of Sargento® Creamery Baby Swiss Cheese on grilled marble rye bread and you have a winner every time.
Ingredients
8 slices marble rye bread
4 tbsp. butter, softened
3 tbsp. thousand island dressing
1 tbsp. sriracha hot sauce
1 cup sauerkraut, well drained
16 ozs. deli corned beef, thinly sliced
Directions
In a small bowl, combine dressing and hot sauce. Set aside.
Butter one side of each slice of bread.
Pre-heat a large cast iron or non-stick skillet over medium-low heat.
Using a spatula, place a heaping mound of corned beef that fits the size of bread into one side of the hot skillet. Place 2 slices of cheese over corned beef. Cook for 2 minutes or until cheese begins to melt.
Meanwhile, place 1 slice of bread buttered side down into the hot skillet next to the corned beef. Top with 2 slices of cheese and ¼ cup of sauerkraut. Grill for 2-3 minutes or until golden brown.
Transfer the mound of cheese topped corned beef to the slice of grilled bread. Meanwhile, immediately replace the corned beef in the skillet with another slice of buttered bread. Spoon about a tablespoon of reserved dressing onto the bread and spread with the back of the spoon. Grill for another 2-3 minutes.
Remove meat and cheese topped bread from pan with a spatula to a plate. Place grilled bread with dressing on top of sandwich grilled side up. Cut in half and serve. Repeat process for remaining 3 sandwiches.
Note: For faster preparation, use a large electric griddle. Grill bread topped with cheese, sauerkraut and dressing, then top with corned beef that has been warmed in a microwave.
---