Pumpkin Grilled Cheese Sandwich Recipe
Prep Time: 10 Min | Cook Time: 10 Min | Servings: 4 | Calories: 440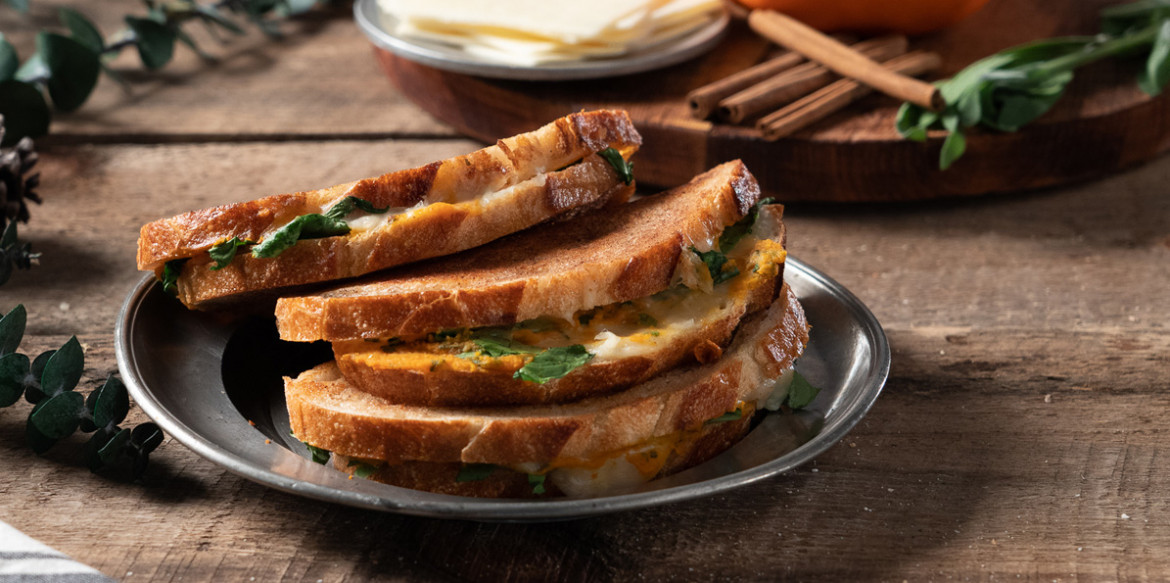 ---
Pumpkin signals the peak of autumn. What better way to celebrate this famous fruit than by adding it to another famous food, the grilled cheese sandwich. In this fall version, we combine pumpkin, Sargento® Sliced Havarti Cheese and chopped spinach served on cinnamon buttered sourdough bread, then grilled to a golden brown.
Ingredients
4 Tbsp Butter, softened
1/2 tsp Ground cinnamon
8 slices Rustic sourdough bread
8 Tbsp Canned pumpkin (100% pure)
2 Tbsp Fresh Sage, finely chopped
1 cup Fresh spinach, chopped
Directions
In a small bowl, combine butter and cinnamon. Spread one side of 4 slices of bread with half of cinnamon butter. Place bread butter side down on a piece of waxed paper.
Place one slice of Sargento® Sliced Havarti Cheese on each slice of bread.
In a small bowl, combine pumpkin and sage. Spread pumpkin mixture over the four slices of bread topped with cheese. Top with chopped spinach. Place remaining slices of cheese on top of spinach.
Spread remaining cinnamon butter on one side of remaining bread slices. Place buttered side up over spinach. Refrigerate sandwiches until ready to grill.
TO PREPARE: Pre-heat a large griddle over medium heat. Place sandwiches on griddle. Grill for 2-3 minutes or until golden brown. Flip sandwiches with a spatula and grill an additional 2-3 minutes or until golden brown. Transfer sandwiches to a plate, cut in half and serve.
NOTE: You can substitute roasted pumpkin slices for canned pumpkin if desired.
---