Prosciutto, Spinach and Jam Grilled Gouda Sandwich Recipe
Prep Time: 10 Min | Cook Time: 5 Min | Servings: | Calories: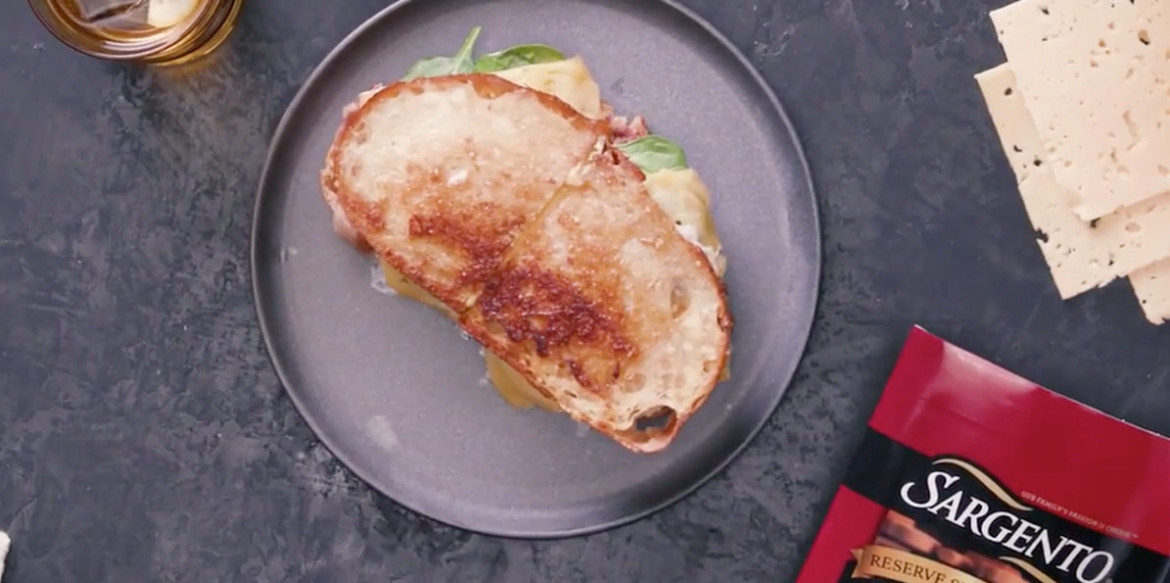 ---
There is never a wrong time to eat a delicious and comforting prosciutto grilled cheese sandwich. Just add ingredients like raspberry jam and Sargento® Reserve Series™ Aged Gouda Slices.
Ingredients
2 shallots, sliced
2 tablespoons olive oil
2 tablespoons balsamic vinegar
3 tablespoons raspberry jam
1 tablespoon butter
Salt, to taste
2 slices artisanal bread
1 tablespoon mayonnaise
4 slices prosciutto
1/4 cup spinach
Directions
For the jam: In a small saucepan over medium heat, cook the shallots in olive oil until softened. Add the balsamic vinegar and jam and cook until the mixture is thick and jammy. Turn off heat and add the butter and salt to finish. Set aside and allow it to cool.
Heat a large skillet over medium high heat.
To assemble each sandwich, spread a thin layer of mayonnaise on both sides of the bread. Place slices of bread in the skillet and top one with two slices of cheese. Onto one slice of bread add 4 folded slices of prosciutto. On the other spread a layer of jam. Continue cooking until the bread is golden brown and the cheese is melted. Finish by placing the spinach on one half and closing the sandwich. Remove from the pan, slice and serve.
---