Mexi-Chicken Grilled Cheese Recipe
Prep Time: 15 min | Cook Time: 10 min | Servings: 4 | Calories: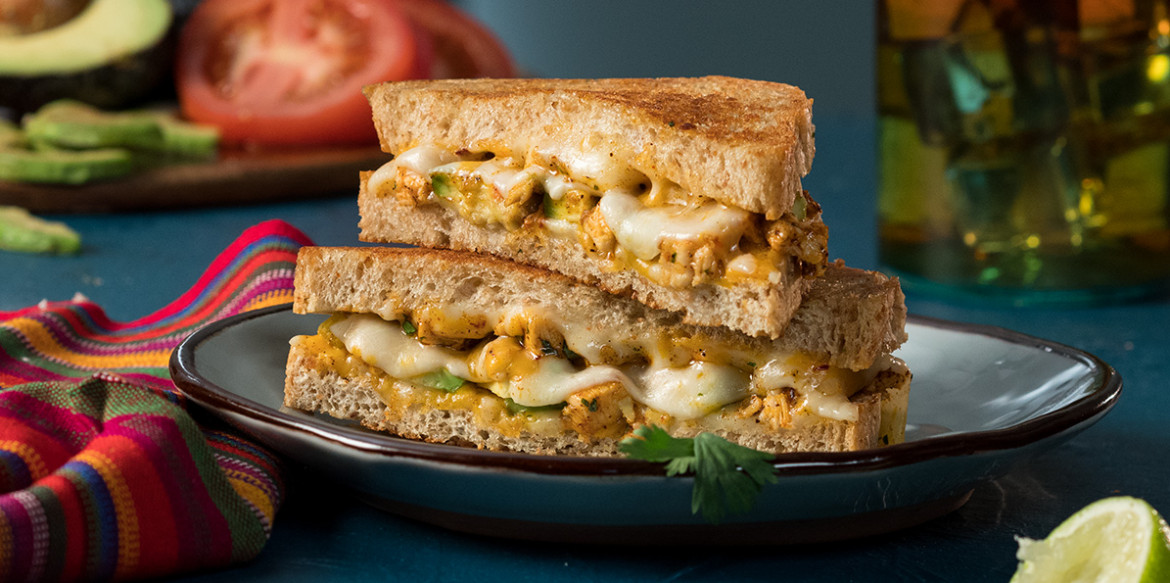 ---
This grilled cheese sandwich features a grilled chicken salad with chilies, tomatoes, lime juice, chili powder, pumpkins seeds and cilantro. The Sargento® Pepper Jack adds the melty cheese goodness that's topped off with avocado.
Ingredients
1/4 cup Mayonnaise
1/2 tsp Chili Powder
1/2 tsp Fresh lime juice
1 cup Grilled chicken, finely chopped
1 tbsp Diced green chilies, drained
1 tbsp Diced tomatoes
1 tbsp Pumpkin seeds
2 tsp Cilantro, finely chopped
3 tbsp Unsalted butter, softened
8 slices Whole grain bread, sliced
1 ea Avocado, pitted and sliced
Directions
In a medium bowl, combine mayonnaise, chili powder and lime juice. Stir with a spoon until blended.
Add chicken, chilies, tomatoes, pumpkin seeds and cilantro. Stir until well blended.
Butter one side of 8 slices of bread.
Place 2 slices of cheese on the unbuttered side of 4 slices of bread. Spoon chicken salad mixture on top of cheese. Place 3-4 slices of avocado over chicken salad. Place 1 slice of cheese over avocado. Place remaining bread slices over cheese butter side up.
Pre-heat a large non-stick skillet or griddle over medium-low heat.
Grill sandwiches for 3-4 minutes on each side or until cheese is melted and bread is golden brown.
Cut in half and serve.
---