Double Cheddar, Apple & Ham Sandwich Recipe
Prep Time: 10 min | Cook Time: 20 min | Servings: 4 | Calories: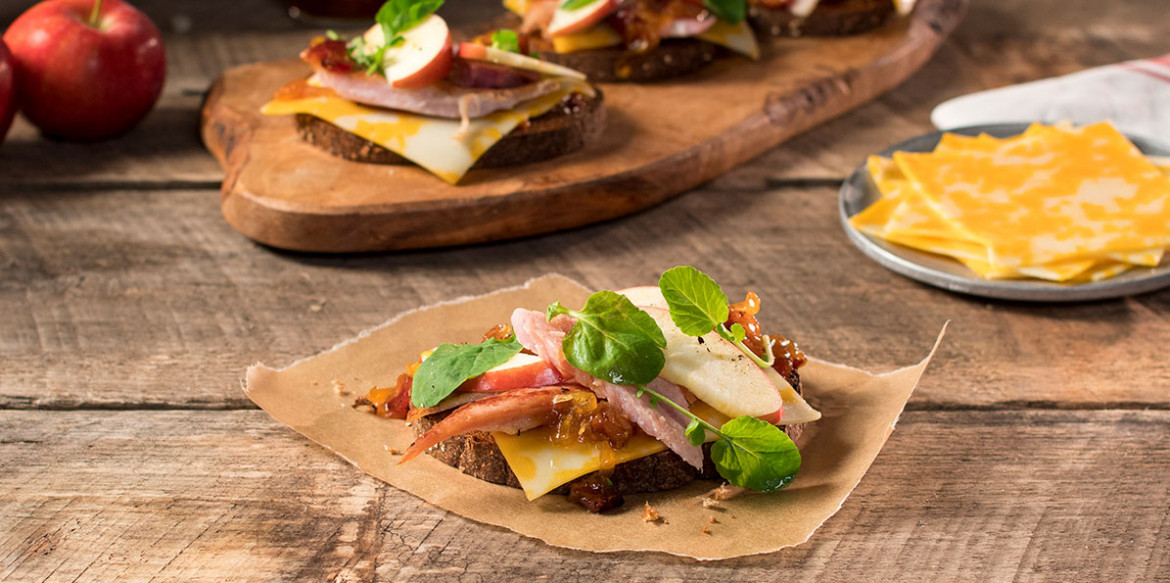 ---
The sweet from the apple slices and apricot preserves mixed with the savory of the ham and Sargento® Blends™ 2 Cheese slices, makes this sandwich the perfect mix of sweet and savory that will make your mouth and stomach happy.
Ingredients
4 slices Hearty dark rye bread, toasted
6 slices Thick cut bacon, cut into small pieces
1 ea. Leek, white part only, thinly sliced
1 cup Apricot preserves
1/4 cup Apple cider vinegar
1/2 tsp. Crushed red pepper flakes, optional
2 small Apples, cored and cut into thin wedges
1 large Ham steak or leftover ham slices, warmed
1 cup Fresh watercress or arugula, washed
Directions
In a large dutch oven, cook bacon until crispy. Drain on paper towels, reserving 1 tablespoon of bacon grease. Add leek and reserved bacon grease to pan. cook until bacon is crisp and leek is softened. Add vinegar, preserves and red pepper flakes. Simmer on low for 5-7 minutes or until thickened. Remove from heat and let cool.
Brush apple wedges and ham with olive oil.
To Assemble: Spoon about 2 tablespoons of prepared bacon jam onto each slice of toast. Place 1 slice of cheese over jam, then top with ham, apples and watercress. Sprinkle with freshly ground black pepper and serve.
Note: Sandwiches can be warmed in the oven then topped with watercress just before serving.
---