Mac & Cheese Board
Prep Time: 20 MIN | Cook Time: 25 MIN | Servings: | Calories: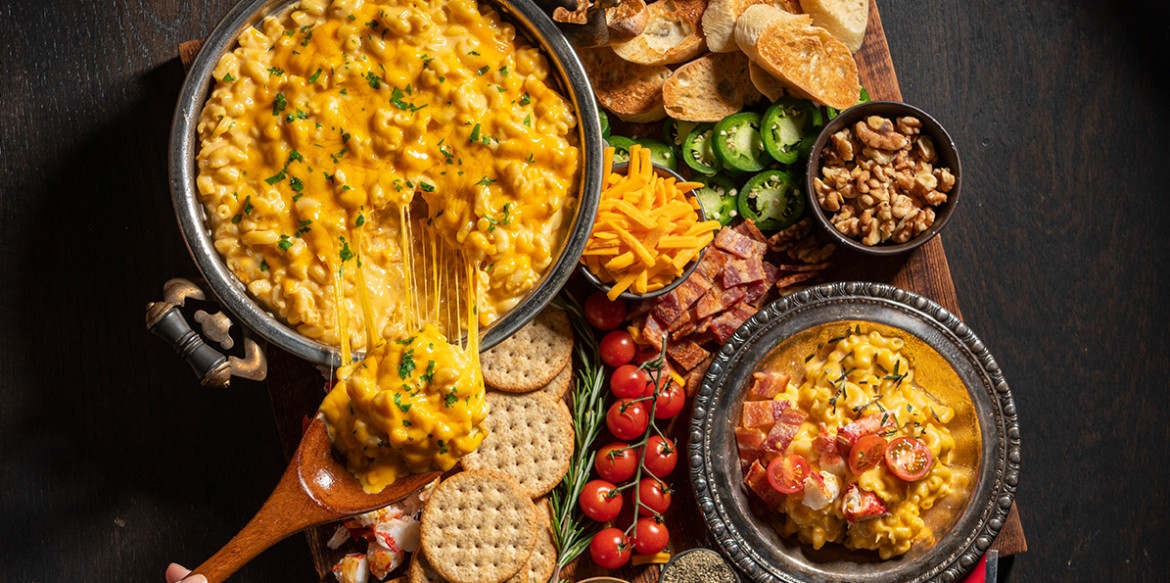 ---
Ingredients
2 cups Whole milk
2 cups Chicken broth
1 lb. Elbow macaroni, uncooked
2 bags(3 cups) Sargento®Creamery Blend Shredded 3-Cheese Mexican® Cheese
½ tsp. Black pepper(optional)
¼ cup Crumbled bacon (optional)
1 ½ cups Cooked lobster meat, chopped
8 slices Cooked bacon, chopped
1 cup Grape tomatoes, halved
2 Tbsp. Fresh herbs, chopped(rosemary, parsley, chives etc.)
2 ea. Fresh jalapenos, thinly sliced
½ cup Chopped nuts(walnuts, pecans, almonds, etc.)
12 ea. Baguette slices, toasted
Assorted crackers, optional
Directions
1. Prepare mac & cheese as follows:

1. Add milk and chicken broth to a medium saucepan. Add pasta and bring to a simmer, stirring often to
prevent the pasta from sticking. Cook for 15 minutes or until liquid is thickened and pasta is nearly
tender.
2. Stir in cheese, pepper and bacon if desired. Remove from heat and stir until cheese has melted and
pasta is well coated with sauce.
Note: If pasta gets too thick, you can add additional water about 1 tablespoon at a time until desired
consistency is desired.

Keep warm while assembling the board
2. Arrange the toppings in small bowls and piles on a large wooden board. Spoon warm mac & cheese
into a serving dish and place on board with toppings around it. Serve immediately.
---