Roasted Chicken Nachos Recipe
Prep Time: 10 min | Cook Time: 25 min | Servings: 4 | Calories: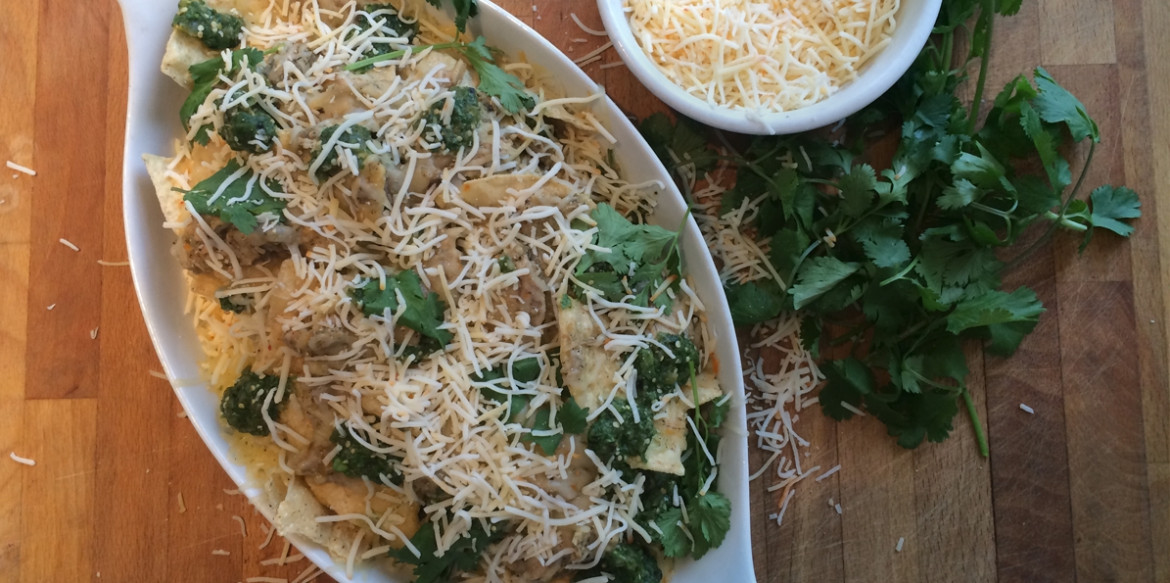 ---
Crispy, cheesy nachos are sure to be crowd pleasers. These combine Sargento® Shredded Authentic Mexican Cheese with flavorful roasted chicken and fresh tomatillo salsa for a nacho dish that's a win every time.
Ingredients
2 lb. chicken leg quarters, about 3-4 legs
Tomatillo salsa
Your favorite tortilla chips
Salt and pepper to taste
1 cup chicken stock
Juice of one lime, more to taste
2 tsp. ground coriander
2 tsp. ground cumin
1 bunch cilantro stems, reserved from tomatillo salsa
2 large cloves garlic, about 1/2 oz., crushed
1/2 jalapeno (1 if you like spicier) stem removed, cut in half
1 small onion, about 8 oz., peeled and sliced thin
Olive oil, 4 Tbsp divided
2 cups (8 oz.) Sargento® Shredded Authentic Mexican Cheese
Directions
Season chicken legs to taste with salt and pepper.
Warm an oven proof sauté pan over medium high heat. Add 2 Tbsp olive oil and sear the chicken legs skin side down until a dark golden brown, about 3-6 minutes. Turn chicken legs over and cook about 2-3 minutes more. Remove chicken legs from pan onto a plate to rest.
Place chicken legs back into the pan so the bottom half of the legs are submerged into the stock vegetable mixture. Cook in 350 degree oven about 10-15 minutes until chicken is cooked through. Remove from oven and allow to rest a few minutes to cool slightly.
Remove chicken and shred into smaller pieces. Puree the vegetable and stock mixture that the chicken was roasted with. Mix the pureed sauce and pulled chicken together. Adjust seasoning to taste.
Build Nachos with layers of chips, chicken, tomatillo salsa and cheese. Bake in 350 degree oven for about 10 minutes or until cheese is melted.
---