Risotto with Butternut Squash and Parmesan Recipe
Prep Time: 20 min | Cook Time: 25 min | Servings: 4 | Calories: 420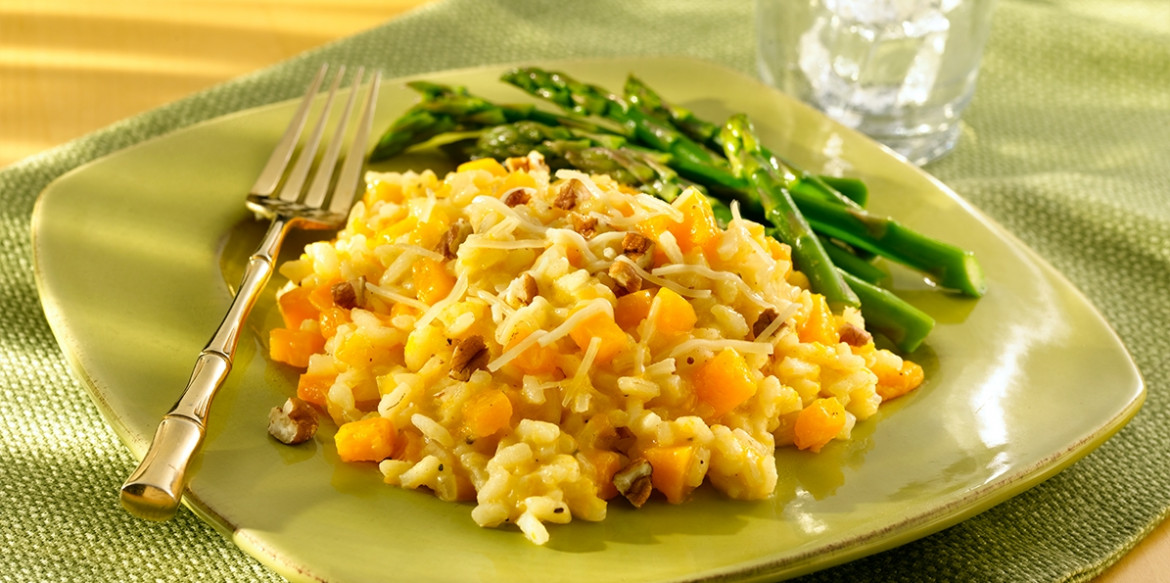 ---
Sweet, buttery squash with onion and garlic in Arborio rice is enhanced with the nutty flavor of Sargento® Parmesan Cheese. A little extra sprinkle of cheese and toasted pecans completes this comfort-food dish.
Ingredients
4 cups low sodium chicken broth
2 Tbsp. butter or olive oil
2 cups (1/4-inch pieces) peeled, diced butternut squash
1 large onion, chopped
4 cloves garlic, minced
1 cup uncooked Arborio rice
1/4 tsp. nutmeg
1/2 tsp. salt
1/2 tsp. pepper
Chopped toasted pecans (optional)
Directions
Heat broth to a boil in medium saucepan; reduce heat to low and keep hot.
Melt butter in large skillet over medium heat. Add squash, onion and garlic; cook 5 minutes, stirring occasionally. Add rice; cook 1 minute, stirring frequently.
Add 1 cup hot broth to the skillet mixture; cook until most of the broth is absorbed, stirring occasionally. Repeat until rice is slightly firm to the bite and squash is tender; keep rice mixture at a simmer.
Remove from heat; stir in 3/4 cup cheese, nutmeg, salt and pepper. Transfer to serving bowls; sprinkle with remaining cheese. Sprinkle with toasted pecans, if desired.
---