Picadillo Chicken
Prep Time: 15 min | Cook Time: 35 min | Servings: 6 | Calories: 1141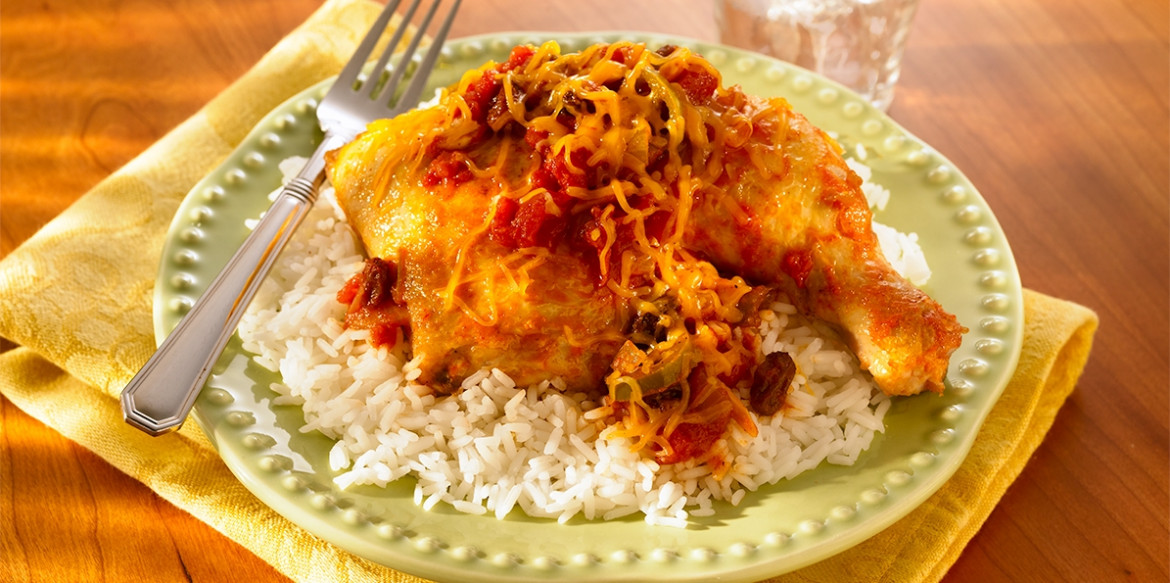 ---
A twist on a Latin American classic, this Picadillo Chicken uses tender simmered chicken with a little touch of sweetness from raisins. Serve over rice and top with slivered almonds and a generous sprinkling of Sargento® Shredded Nacho & Taco Cheese.
Ingredients
1 (about 3-1/2 lbs.) broiler-fryer chicken, cut up
1-1/2 Tbsp. all-purpose flour
1/2 tsp. salt
2 Tbsp. vegetable oil
1 large onion, chopped
2 cloves garlic, minced
1 can (14-1/2 oz.) stewed tomatoes, undrained
1 can (8 oz.) tomato sauce
1/3 cup raisins
1/3 cup sliced pickled jalapeños, drained
1 tsp. cumin
1/4 tsp. cinnamon
1/3 cup toasted slivered almonds
Hot cooked rice (optional)
Directions
Rinse chicken; pat dry. Dust with flour and salt.
Brown chicken, skin side down, in hot oil in large skillet 5 minutes over medium heat; turn. Add onion and garlic; cook 5 minutes more. Add stewed tomatoes with liquid, tomato sauce, raisins, jalapeños, cumin and cinnamon; heat to a boil.
Reduce heat; cover and simmer 15 minutes. Uncover and simmer 10 minutes more or until chicken is tender and sauce is thickened. Stir in almonds; serve over rice, if desired. Sprinkle with cheese.
---