Muffuletta Wraps
Prep Time: 20 min | Cook Time: | Servings: 4 | Calories: 661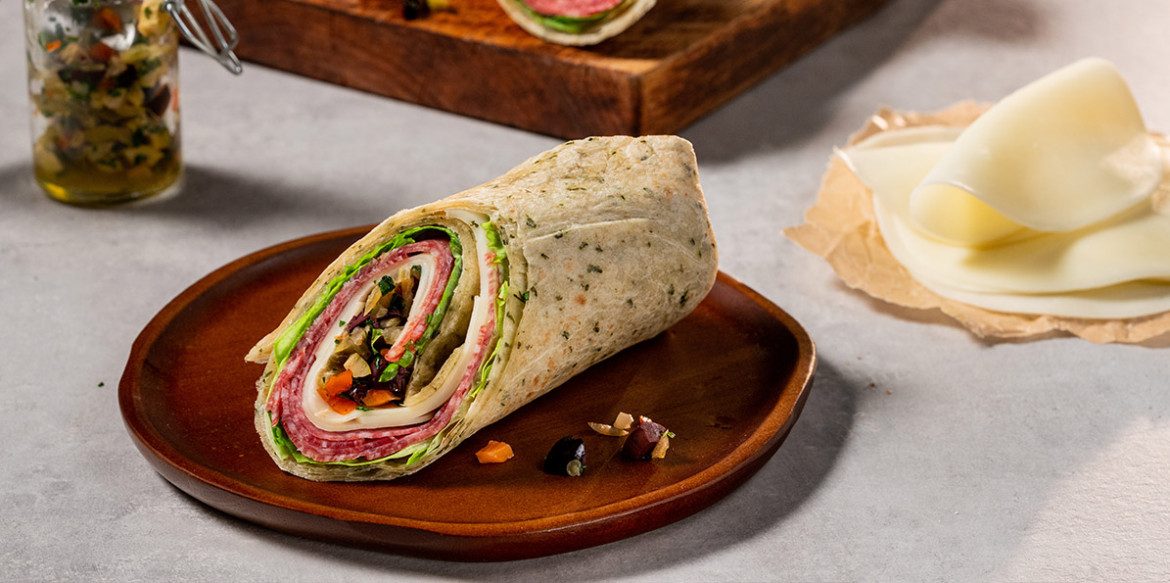 ---
The great thing about these wraps is that they're not only delicious but they're great for making a meal that's good on the go. With a combination of Sargento® Sliced Provolone Cheese, Genoa salami and a medley of savory chopped ingredients like pimientos, Kalamata olives and a slew of spicy pickled vegetables, you'll be feasting when it's mealtime.
Ingredients
1/2 cup chopped pimiento-stuffed olives
1/2 cup chopped pitted kalamata or black olives
1/2 cup giardinera vegetables, drained, chopped
1/4 cup chopped fresh parsley
2 Tbsp. olive oil
4 large (10-inch) flour tortillas or flavored tortillas
4 lettuce leaves
1/2 lb. sliced Genoa or hard salami
8 slices Sargento® Sliced Provolone Cheese
Directions
Combine olives, pickled vegetables, parsley and olive oil in small bowl.
For each wrap, line a tortilla with a lettuce leaf, 2 ounces salami and 2 slices cheese. Top with a heaping 1/4 cup olive mixture. Fold ends in and roll up tortilla. Wrap in plastic wrap and refrigerate until serving time.
---