Loaded Potato Nachos
Prep Time: 10 MIN | Cook Time: 25 MIN | Servings: 4 | Calories: 680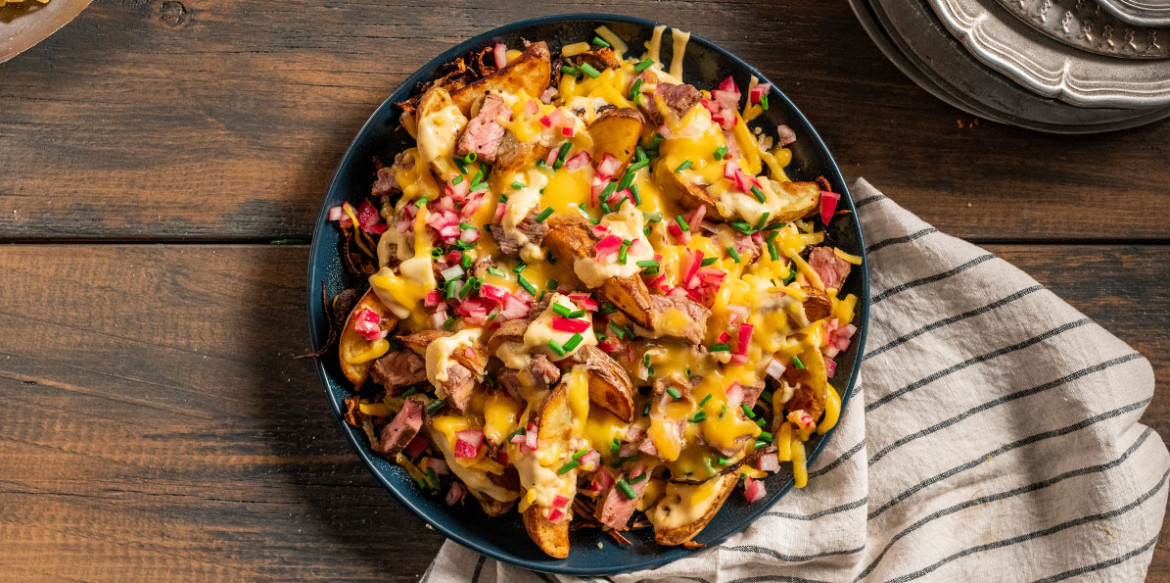 ---
Ask a steakhouse chef to make nachos and the result might be these amazing Loaded Potato Nachos. These are brimming with grilled steak, a gooey, tangy beer-cheese sauce and steakhouse fries, mushrooms and onions, with a sprinkle of pickled onions on top. Sargento® Reserve Series™ 18-Month Aged Cheddar ensures the cheese flavor stands out among all these hearty ingredients.
Ingredients
1/2 cup Red onion, chopped
1/2 cup Apple cider vinegar
1 tsp. Sugar
1 tsp. Salt
2 Tbsp. Unsalted butter
2 Tbsp. All-purpose flour
1/2 cup Light beer
1/2 cup Milk
1 Tbsp. Stone ground, mustard
1 tsp. Steak seasoning, divided
1 8oz Beef strip loin steak
1 tsp. Worcestershire sauce
13 oz. Frozen seasoned steakhouse fries
1 small Yellow onion, cut into strips
1 cup Button mushrooms, thinly sliced
1 Tbsp. Vegetable oil
Directions
For Pickled Onions: In a small bowl, combine onion, vinegar, sugar and salt. Cover with plastic wrap and refrigerate for 1 hour. Drain liquid and set aside until ready to assemble.
For Beer Cheese Sauce: In a medium saucepan, melt butter over medium low heat. Stir in flour and cook for 2-3 minutes or until mixture is cooked, but not browned. Stir in beer, milk, mustard and half of seasoning. Simmer until thickened, stirring often. Slowly stir in 1 1/2 cups of cheese. Reduce heat to low and simmer, stirring constantly until cheese sauce is smooth. Cover and keep warm until ready to assemble.
For Steak: Drizzle worcestershire sauce over steak. Turn steak over twice, moving steak around plate to soak up any additional sauce on both sides. Season with remaining steak seasoning. Let rest at room temperature for 15 minutes. Grill or pan-fry steak for 5-6 minutes per side or until cooked to medium. Transfer to a plate and let rest at room temperature for 10 minutes. Cut in half lengthwise, then crosswise into 1/2" slices. Toss steak pieces with juices on plate and set aside.
For Potatoes, mushrooms and onions: In a large bowl, combine frozen potatoes, mushrooms and onions. add oil, then toss to coat.
Pre-heat air fryer for 5 minutes at 400- degrees. In the basket of an air fryer, add potato mixture. Place basket in air fryer. Cook for 20 minutes at 385. Toss halfway through cooking time. Remove from air fryer and transfer to a large serving plate.
Pour warm cheese sauce over potato, onion and mushroom mixture. Place steak pieces over cheese sauce. Sprinkle remaining 1 1/2 cups of cheese over steak and sauce. Drain red onions, pat dry and sprinkle over steak. Sprinkle chives over cheese. Place plate in a warm oven until cheese on top has melted. Serve.
---