Indian Spicy Shrimp Recipe
Prep Time: 25 min | Cook Time: 30 min | Servings: 4 | Calories: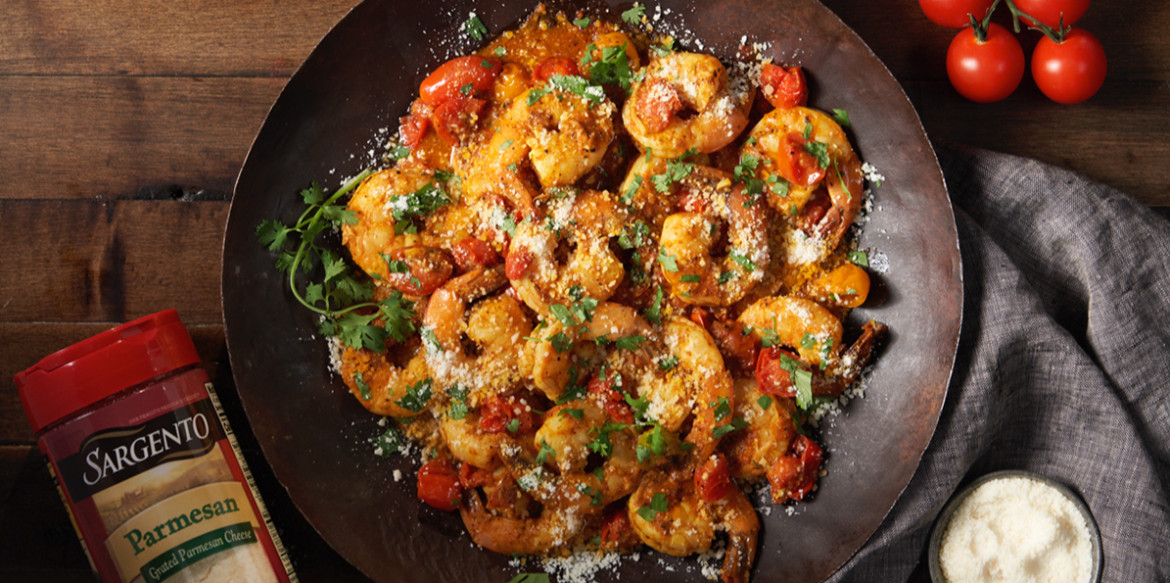 ---
This recipe has fresh shrimp marinated and lightly fried then simmered in a rich, spicy tomato sauce with garlic, ginger and turmeric. A sprinkle of Sargento® Grated Parmesan Cheese just before serving melts deliciously over the shrimp.
Ingredients
1 tbsp. red chili powder
1tsp. tumeric powder
1 tbsp. white vinegar
2 tbsp. cooking oil
1 lb. cleaned shrimp
2 tbsp. olive oil
2 sliced medium tomatoes
5 cloves garlic, grated
1 tsp. grated ginger
1 tbsp. coarse black pepper
2 tbsp. finely chopped cilantro leaves
2 tbsp. Sargento® grated parmesan cheese
Directions
Mix red chili, turmeric and white vinegar and marinate shrimp in it for 15 minutes.
Pour cooking oil in a nonstick pot, and fry the shrimp until half fried. Set aside.
Pour olive oil in a nonstick pot. When oil is warm, add tomatoes and stir at intervals. Add garlic and ginger to the pot and continue to stir until tomatoes dissolve. Add black pepper to pot and stir for 2 minutes. Lower the heat to a simmer.
Add shrimp to tomato mixture in pot. Place lid on pot and let simmer for 30 minutes, stirring at intervals.
Turn off stove and sprinkle shrimp mixture with cilantro. Close lid and let stand for 5 minutes.
Before serving sprinkle grated Sargento cheese.
---