Chicken Salad & Gouda Sandwich
Prep Time: 40 MIN | Cook Time: | Servings: 4 | Calories: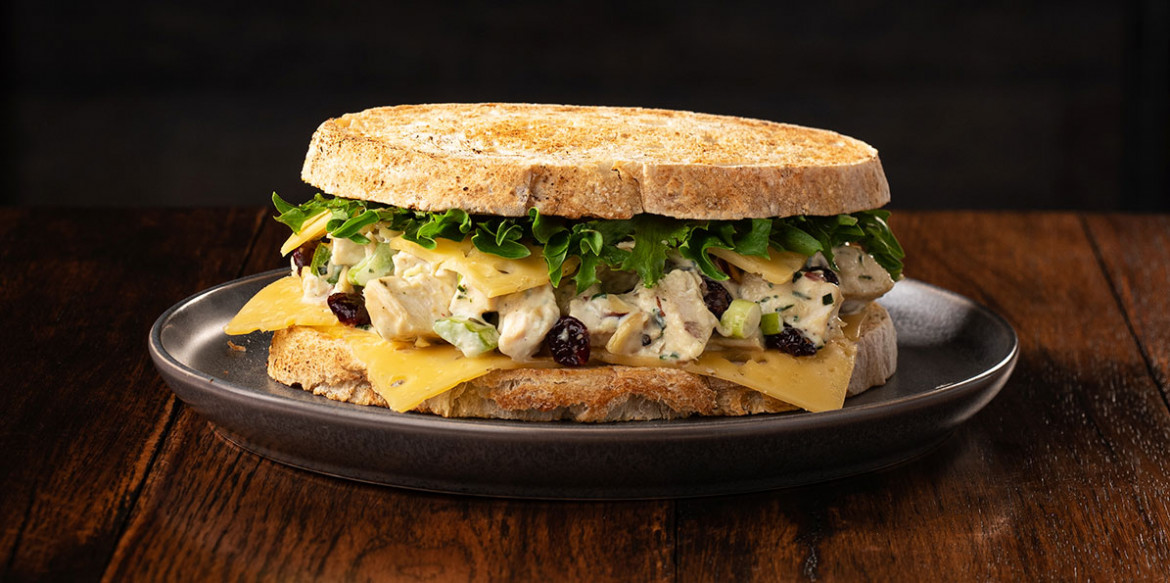 ---
This delectable recipe takes a standard sandwich to a new level by incorporating a few select ingredients: fresh basil or tarragon, dried cranberries, tender butter lettuce and Sargento® Reserve Series™ Aged Gouda, which adds a savory buttery, nutty flavor to this classic sandwich.
Ingredients
½ cup Mayonnaise
1 Tbsp. Honey mustard
1 Tbsp. Fresh basil or tarragon, chopped
½ tsp. Fresh ground black pepper
2 ½ cups Cooked chicken, cubed
1/3 cup Celery, chopped
2 ea. Green onion, thinly sliced
¼ cup Dried cranberries
¼ cup Sliced almonds, toasted
8 slices Multi-grain bread
8 slices Sargento® Reserve Series™ Aged Gouda
Directions
1. In a medium bowl, combine mayonnaise and next 3 ingredients. Stir until smooth.
2. Fold stir in chicken celery, onion, cranberries and almonds. Cover and refrigerate for at least 30 minutes.
3. Toast bread to golden brown. Repeat with remaining bread slices.
Place 1 slice of cheese on 4 slices of toast. Spoon about ¾ cup chicken salad mixture over cheese. Place 1 slice of cheese over chicken salad. Place 1-2 leaves of butter lettuce over cheese. Place remaining slices of toast over lettuce. Cut in half and serve.
---