Chicken Marsala Casserole
Prep Time: 10 min | Cook Time: 1 hr 20 mins | Servings: 8 | Calories: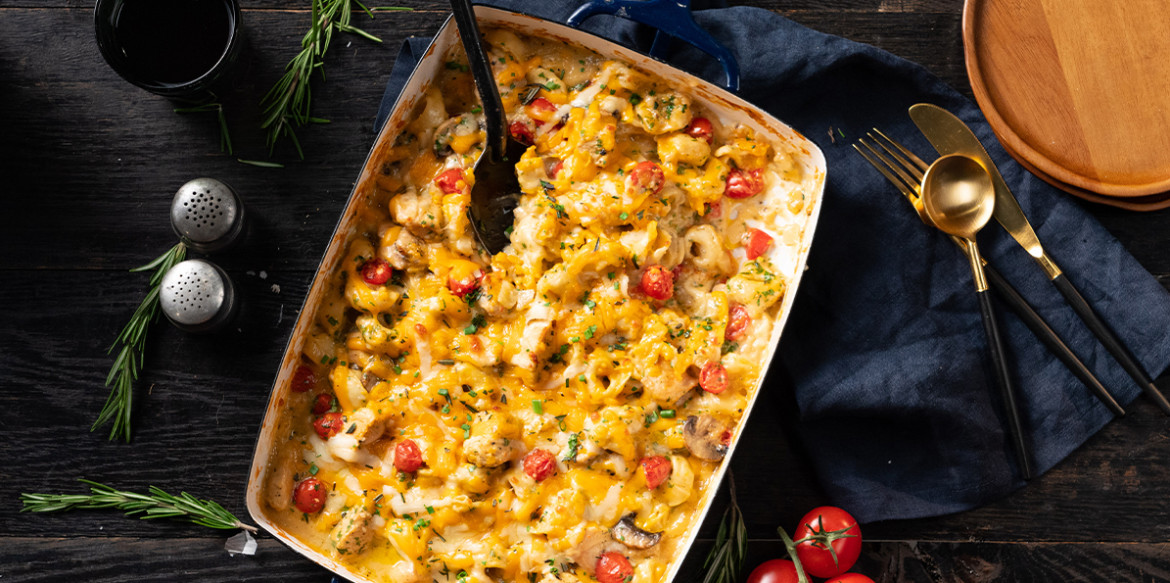 ---
This one sounds fancy and makes a great dish for an elegant gathering but it's actually very easy—just 10 minutes to whip together, and you can get ready for your guests while it bakes. The gourmet cheesy flavor is created with two Sargento® Reserve Series™ cheeses: Aged Italian Blend and 18-Month Aged Cheddar.
Ingredients
2 tbsp. Dry sherry
2 tbsp. All-purpose flour
1 1/2 cups Sargento® Reserve Series™ Shredded 18-Month Aged Cheddar Cheese, divided
1 1/2 cups Sargento® Reserve Series™ Shredded Aged Italian Blend, divided
1 cup Grape tomatoes, halved
1/4 cup Parsley, finely chopped
19 ozs. Frozen tortellini
10 1/2 ozs. Water
1 can Cream of chicken soup
2 tsp. Fresh lemon juice
1 tbsp. Extra virgin olive oil
1/2 cup Dry marsala wine
1/2 tsp. Dried Italian seasoning
1/2 tsp. Black pepper
1 tsp. Kosher salt
1 clove Garlic, minced
1 1/2 lbs. Boneless, skinless chicken breasts, cut into 1 1/2" chunks.
1 cup Onion, diced
2 cups Mushrooms, sliced
Directions
Pre-heat oven to 350 degrees. Pre-heat a dutch oven over medium heat. Add olive oil. Add chicken, salt, pepper and oregano. Cook chicken for 4-5 minutes stirring often until browned and no longer pink on the outside.
Add mushrooms, onion and garlic. Cook an additional 3-4 minutes or until mushrooms are softened. Add marsala, sherry and lemon juice. Cook until almost evaporated. Stir in cream of chicken soup and water.
Remove pan from heat and stir in frozen tortellini. In a medium bowl, combine 1 cup of the Sargento® Reserve Series™ Aged Italian Blend Cheese, 1/2 cup of the Sargento® Reserve Series™ 18-Month Aged Cheddar Cheese and 2 tablespoons of flour. Add to the pan. Reserve remaining cheese for sprinkling on top after it has baked. Transfer mixture to a greased 13" X 9" Baking dish. Cover with foil. Place dish in oven.
Bake for 45 minutes. Remove foil and stir in parsley and grape tomatoes. Sprinkle with remaining cheese. Bake uncovered an additional 10 minutes or until cheese is melted. Let casserole rest for 10 minutes before serving. Garnish with additional chopped parsley if desired.
Note: This casserole reheats really well. Just spoon leftovers into a bowl and microwave on high until heated through.
For added nutrition and flavor, feel free to add vegetables such as broccoli, asparagus, tomatoes or chopped brussels sprouts before baking.
---