Southern Style Mac & Cheese
Prep Time: 15 | Cook Time: 45 | Servings: 4 | Calories: 1904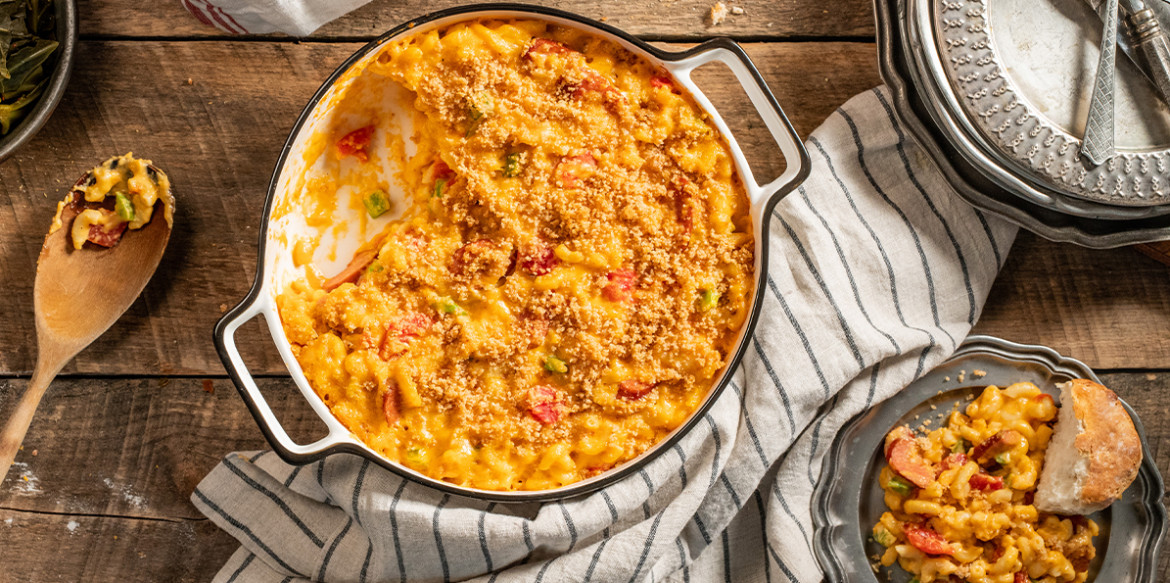 ---
<p><span>Upgrade your comfort food go-to with Southern Style Mac and Cheese. Made with Sargento® Cheddar and Cajun seasoning, it's super creamy with a hint of spice!</span></p>
Ingredients
1 lb. elbow macaroni
1/4 cup butter
1/4 cup flour
4 cups milk
1/2 tsp. salt
2 cups (8 oz.) Sargento® Shredded Mozzarella - Traditional Cut, divided
1 cup diced green pepper
1 cup canned diced tomatoes
1 1/2 cups chopped sausage
2 tsp. cajun seasoning
1/2 cup breadcrumbs (optional)
Directions
Cook macaroni according to package directions. Meanwhile, melt butter in a large saucepan over medium heat. Add flour; cook and stir 1 minute. Add milk and salt. Bring to a boil, stirring frequently. Reduce heat; simmer 2 minutes or until sauce thickens. Stir in 3 cups Sharp Cheddar Cheese and all of the Mild Cheddar Cheese until melted.
Stir in cooked macaroni, diced green pepper, diced tomatoes, chopped sausage and add cajun seasoning to taste.
Spread 4 cups macaroni mixture into two 8 or 9-inch baking dishes or pans. Layer 1 cup shredded mozzarella over macaroni. Repeat layering with 4 cups macaroni mixture, and remaining 1 cup mozzarella. Spread remaining macaroni mixture over cheese; top with remaining 1 cup sharp cheddar cheese. Top with breadcrumbs if desired.
Bake in preheated 350°F oven 40 to 45 minutes or until bubbly.
---