Ham, Egg & Cheese Croissant Recipe
Prep Time: 5 Min | Cook Time: 20 Min | Servings: | Calories: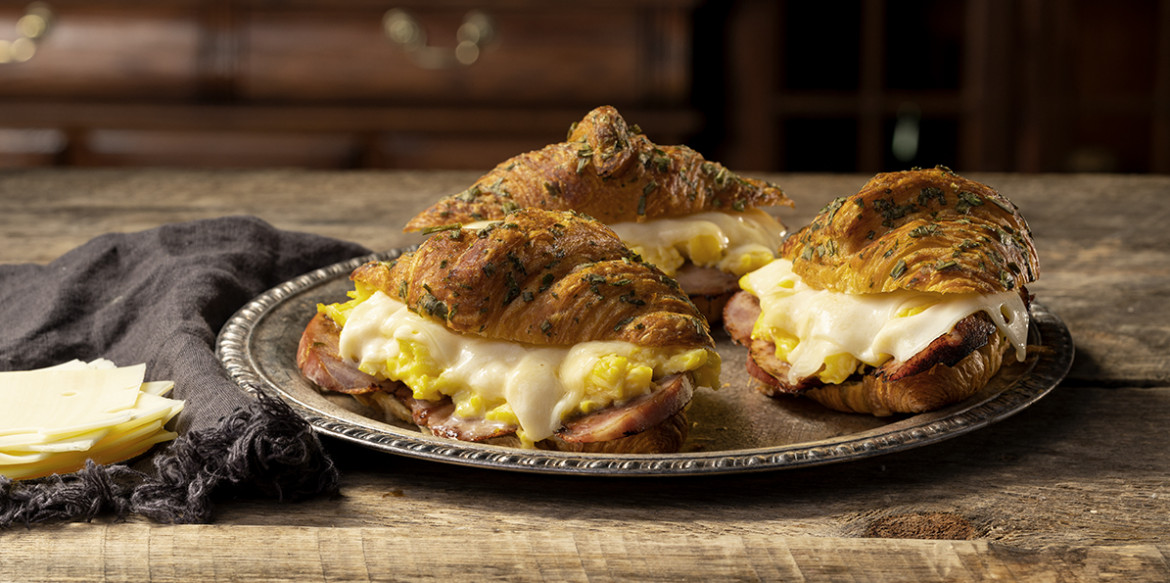 ---
Flaky croissants are stuffed with pan-fried ham, scrambled egg and Sargento® Swiss Cheese, then brushed with a mayo, honey mustard and fresh herb glaze then toasted until hot and bubbling.
Ingredients
2 Tbsp. Mayonnaise
2 Tbsp. Honey mustard
1 Tbsp. Chives, chopped
2 tsp. Tarragon, chopped
2 tsp. Parsley, chopped
2 Tbsp. Butter, divided
12 oz. Carved ham
4 lg. Eggs, beaten
Salt & pepper, to taste
4 lg. Croissants, split
Directions
In a small bowl, combine the first 5 ingredients for the glaze and set aside.
Melt 1 Tbsp. of butter in a large, non-stick skillet over medium heat. Add pieces of ham in a single layer. Fry 1-2 minutes or until golden brown on each side. Transfer ham to a plate and set aside.
While ham is cooking, pre-heat a medium non-stick skillet over medium-low heat. Add remaining butter and cook until melted. Add eggs and stir continually with a spatula until eggs are nearly scrambled. Transfer to a plate and set aside.
To assemble sandwiches, place one slice of cheese on each croissant bottom. Place about 3 oz. of fried ham over cheese. Distribute eggs evenly over ham. Top with another slice of cheese. Replace croissant tops. Brush about 1 Tbsp. of reserved mustard herb glaze on top of croissants. Transfer sandwiches to a lined sheet pan. Bake for 10 minutes or until croissants and crisp and cheese has melted. Transfer to plates and serve with additional sauce on the side if desired.
---